MLW announces Tommy Dreamer vs. Brody King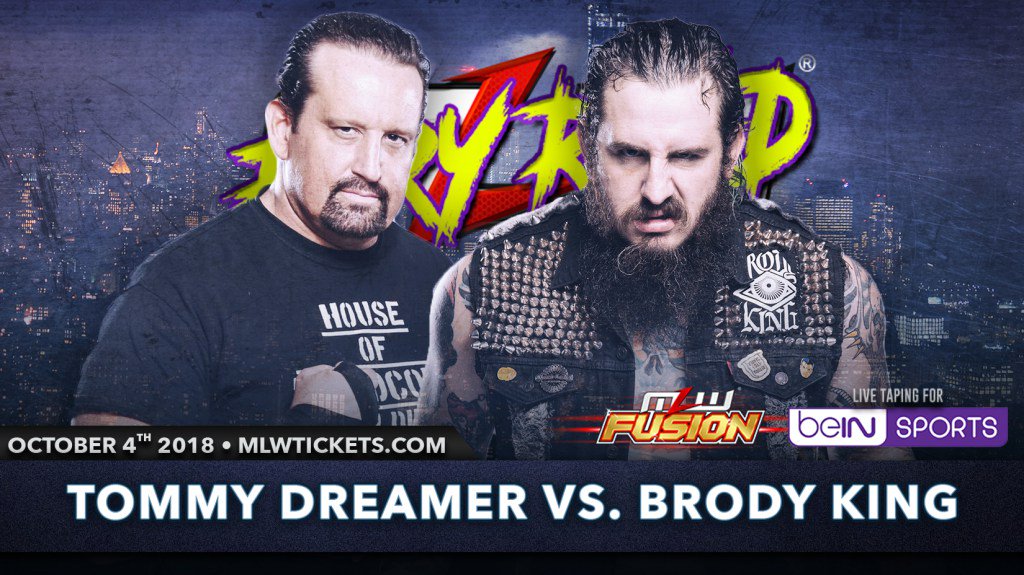 BRODY KING RAMPAGES INTO NYC OCTOBER 4TH AS HE GETS EXTREME WITH TOMMY DREAMER
NEW YORK – What happens when the "Innovator of Violence" takes on 6'5" California bounty hunter Brody King? On October 4th at Melrose Ballroom in Queens, NY we will find out as Tommy Dreamer vs. Brody King is signed for MLW FURY ROAD: an MLW Fusion TV taping. Tickets start at just $20 at www.MLWtickets.com.
"I believe in violence. It's the only thing understood universally," says the wild brawler Brody King. The dominate conjurer of chaos has been a force to reckon with in MLW but things will escalate to the extreme as he takes on New York's own Tommy Dreamer.
Dreamer, making his MLW debut in singles competition, enters the match as a hometown favorite with an uncanny threshold for pain and penchant for hardcore violence.
Brody has been rumbling backstage at MLW events seemingly fixated on one of the gods of violence in Dreamer. Now, he gets his shot at the legend. With media from around the world on hand, will the "Intelligent Destroyer" crush the legend in his backyard? Or, will Dreamer prove one more time why he is forever the "Innovator of Violence"? Find out LIVE October 4th in New York City!
Tickets start at $20 for this MLW FUSION taping. [Buy tickets]
Signed thus far for MLW's October 4th card:
LA Park vs. PCO
SPIN THE WHEEL MAKE THE DEAL:
Jimmy Havoc vs. Sami Callihan
"Filthy" Tom Lawlor vs. Shane "Swerve" Strickland
Hart Foundation vs. Rich Swann, ACH and Marko Stunt
PLUS:
World Heavyweight Champion Low Ki
World Middleweight Champion MJF with Aria Blake
Konnan
Joey Ryan
Hijo de LA Park
Salina de la Renta
Kotto Brazil
Barrington Hughes
Jason Cade
Jimmy Yuta
Myron Reed
Plus more to be announced soon!
More matches will be announced in the coming weeks on MLW: FUSION and MLW.com. Plus, it's a TV taping for MLW FUSION on beIN Sports!
Watch MLW FUSION Friday nights at 8pm ET on beIN SPORTS.
Stream new episodes of MLW: FUSION online on demand starting at 6:05pm Saturday nights for free at www.youtube.com/majorleaguewrestling.
Tickets start at $20 at MLWTickets.com! There are limited VIP tickets available which includes early entry (5:30pm Eastern) featuring a Pre-Show Meet and Greet with select MLW Talent plus complimentary poster.
Please note: General Admission SRO Tickets are: $20 for advance sales, $25 Day of Event at the door.
General Public Doors Open: 6pm Eastern
Showtime: 7pm Eastern.
You can purchase tickets today at MLWTickets.com.
MORE ABOUT THE VENUE:
Located in the heart of Long Island City just minutes away from Manhattan, the Melrose Ballroom is one of New York City's premiere exclusive venues for live performance, music, and entertainment shows.
The venue is located at: 36-08 33rd Street Long Island City, NY 11106.
MORE ABOUT MLW:
Major League Wrestling (MLW®) is a sports media holding company with a focus on professional wrestling sporting events/programming, digital content and ancillary entertainment.
MLW's weekly TV series, Major League Wrestling: FUSION, airs Friday nights 8pm ET / 5pm PT on beIN SPORTS (with replays at 11pm ET) in the United States, Canada and Puerto Rico.
MLW Radio Network is the leading provider of professional wrestling podcasts in the world with 5-6 podcasts in the top iTunes 100 in the sports category on the average day.
MLW content has been distributed commercially in in the United Kingdom, Japan, Germany, India, Denmark and Bangladesh among other territories.
Like MLW on Facebook: http://www.facebook.com/majorleaguewrestling
Follow MLW on Twitter: http://www.twitter.com/MLW
Follow MLW on Instagram: http://www.instagram.com/majorleaguewrestling
Learn more about MLW at: http://www.MLW.com