TNA Impact Wrestling Results – 9/29/16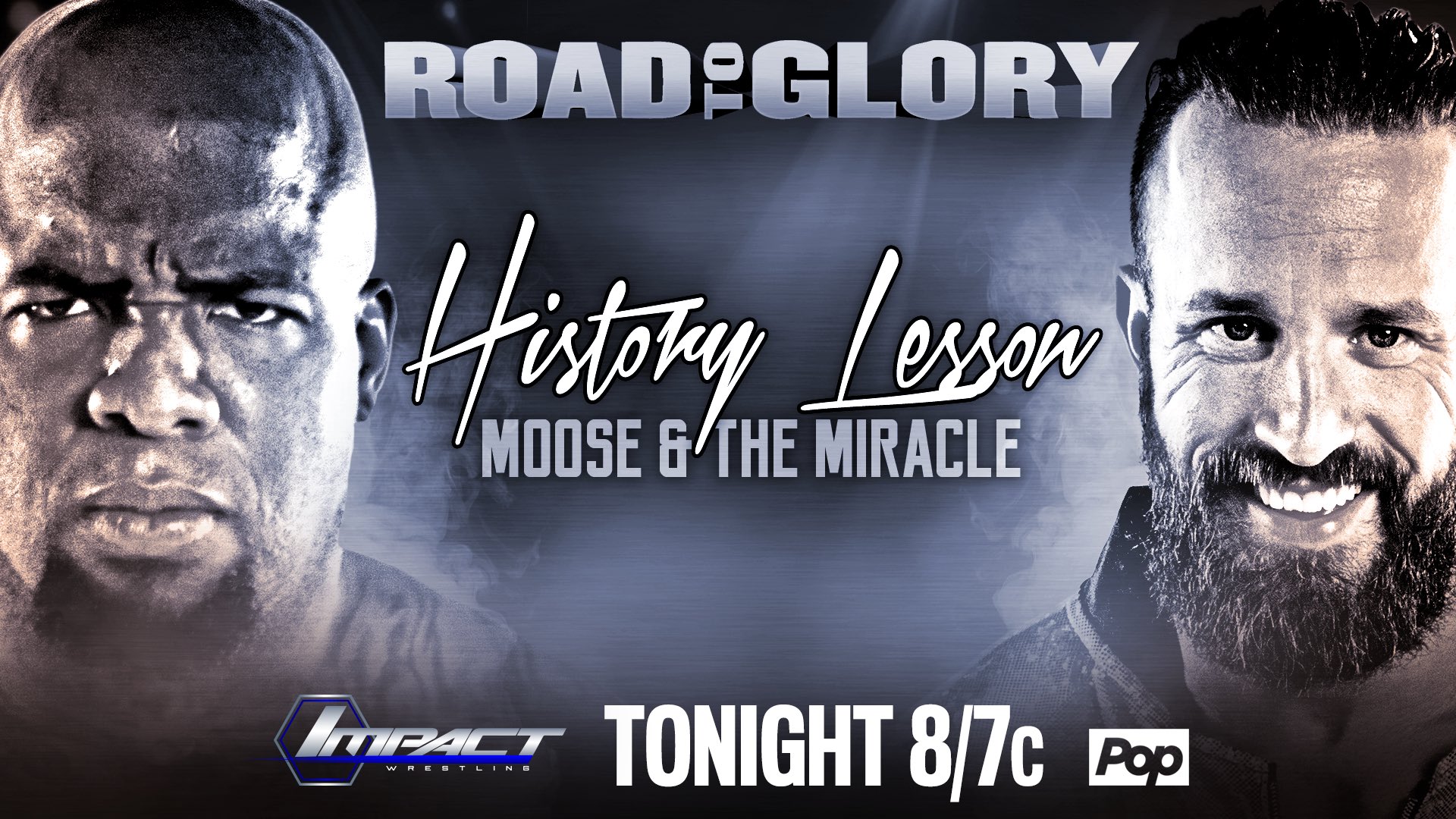 TNA Impact Wrestling Results – Road to Glory
September 29, 2016
Orlando, FL (Impact Zone)
Commentary: Josh Mathews and "The Pope" D'Angelo Dinero
Results by: Gerald Bocook of Wrestleview.com
"Ladies and Gentlemen, we are on the road to 'Bound for Glory', and tonight, a main event with huge implications for this Sunday's World Heavyweight Title match." Lethal Lockdown. Two teams, four members each – one of whom will be a Knockout – and the winning team will decide the stipulation for Ethan Carter III challenging Bobby Lashley. EC3 heads to the ring where Jeremy Borash awaits. Bobby Lashley is next out. Borash has Carter and Lashley in the ring, letting them know the stakes and asking who their teams will be. Lashley has chosen Drew Galloway, Mike "The Miracle" Bennett, and Knockouts Champion Maria. Carter has chosen Aron Rex, Moose, and future Hall-of-Famer Gail Kim. Pretty clean choices, it seems. Funny how that works. Lashley tells Carter that his team is heading to the slaughter, and after he picks Sunday's stipulation, Carter won't have a chance in hell. Carter slams Lashley for trying to talk tough, saying Carter's already looking dead into the eyes of the most dominant TNA World Heavyweight Champion of all time. Everything Lashley says he is, he is. Everything Lashley says he is, Carter isn't. But Carter's the guy you call when the most dominant TNA World Heavyweight Champion of all time needs his ass kicked. Lashley is a dragon; everything he touches turns to smoke and fire and ash, but Sir Ethan Carter III is going to slay that dragon. He needs to win; he must win. Lashley stops Ethan and says that, yeah, Carter needs to win. But Lashley isn't like anyone else that EC3 has fought; Lashley can hurt him, can end his career. Lashley tells Carter to think about that. Carter says he has. He'll fight Lashley with everything he's got. Lashley tells him to bring it.
But before Lashley goes, Carter has a challenge; when Lethal Lockdown begins, be the first man in. Carter will be. Lashley laughs at Carter, telling him to be careful what he wishes for. He's in.
Pope and Matthews run down tonight; Lethal Lockdown, Reby vs Rosemary, and Eddie Edwards is going to challenge DJZ for the X-Division Championship next.
— Commercial break —
A preview for Lethal Lockdown is shown, followed by a small highlight for the X-Division. Eddie Edwards now heads to the ring.
TNA X-Division Championship Match
DJ Z (c) vs. Eddie Edwards
DJZ and Edwards circle before tying up. Edwards to a hammerlock and JDZ starts up a nice bit of chain wrestling between the two before ending with a stalemate. Another tie-up, Edwards with a headlock. DJZ shoves Edwards off, dropdown, leap frog, DJZ to the ropes, leaps over Edwards, Edwards reverses the waist lock and rushes DJZ to the ropes, Edwards is thrown off, DJZ off the ropes, right into Edwards with a nice chop that just stuns DJZ in his boots. Another chop rocks DJZ. A third has DJZ reeling on the ropes. Edwards sends DJZ to the ropes, DJZ ducks a polish hammer, off the ropes, hurricanrana. DJZ up again, to the ropes, springboards off the ropes and sends Edwards flying with an arm drag, Edwards out of the ring and DJZ off the ropes, up-and-over somersault dive connects and smashes Edwards into the railing!
DJZ sends Edwards back into the ring. DJZ plays to the crowd on the apron. Shoulder butt as Edwards approaches, Z somersaults over Edwards who turns around into a jawbreaker. Edwards is stunned, DJZ leapfrogs him towards the corner, and Z springs off the second turnbuckle and connects with a back elbow. DJZ in the corner, waiting for Edwards to get up– DJZ rolls forward and leaps up for the ZDT, but Edwards throws him off! Edwards staggers to the corner and DJZ chases him in, but Edwards tosses him up and over the ropes. DJZ lands on the apron, leaps back into the ring, but Edwards cuts him off with a flying kick that sends Z tumbling to the floor! Edwards off the ropes, suicide dive connects with DJZ on the outside!
Both men stagger back to their feet but Edwards is up first, throwing DJZ back in. Z staggers to a corner as Edwards rolls in, charges Z, but DJZ gets a back elbow up. DJZ hops up to the second turnbuckle but Edwards with another flying kick stops him, grabs DJZ in the Chin Checker, and connects mid-ring! Edwards pins; one, two, t– kickout!
Both men struggle up, DJZ in the corner and Edwards mid-ring. Edwards is up, charges, and gets a boot to the face. Edwards is staggering, DJZ rolls out of the corner, pops up for the ZDT again, but Edwards puts him up in a fireman's carry, pops DJZ into a powerbomb, but DJZ counters into a frankensteiner! One, two, t– kickout!
Edwards is up to his feet, DJZ leapfrogs him again, tries for the springboard back elbow a second time, but Edwards catches him and hits a blue thunder bomb; one, two, thr– kickout!
DJZ is still down as Eddie Edwards heads up top. Edwards with a howl and a leap, double stomp, but DJZ rolls out of the way and Edwards rolls back up to his feet. Edwards charges, DJZ connects with a spin kick to the gut, hits the ropes but Edwards follows and connects a back elbow. Edwards pulls down his kneepad, hits the far side ropes, but DJZ is right there as Edwards springs up, leaping after he rolled out of the ropes with the ZDT! DJZ covers; one, two, three!
Winner and STILL TNA X-Division Champion: DJZ by pinfall (ZDT)
DJZ offers Edwards a hand up, and a handshake and the two embrace and celebrate mid-ring, but are attacked by the Helms Dynasty! Trevor Lee stomps at Eddie Edwards, Everett attacks DJZ, and then the double team on DJZ! They send DJZ into the corner post, shoulder first, and then turn their attention to Eddie Edwards. Beat down before sending Edwards into the ropes, Everett with the drop toehold sends Eddie Edwards flying into the knee of Trevor Lee. The Helms Dynasty celebrates their misdeeds in the center of the ring.
In the back, Allie is helping Knockouts Champion Maria out. Allie says she doesn't really know how "that" happened last week, but Maria knows what happened last week; Allie messed everything up. Bound for Glory is going to be Maria's crowning achievement, and everything better be perfect– not like last week. Maria wants an apology, right now. Allie apologizes, but Maria wants louder! She finally makes Allie stop apologizing when a blond wrestler steps in. Laurel is the woman's name, and Maria suggests that Allie compare herself to Laurel; Laurel is beautiful, intelligent, and tall. Allie is… stupid. Allie is told to announce Laurel to the ring and to do anything Laurel asks of her, and not mess it up.
— Commercial break —
Bound for Glory, I knew you'd come.
Earlier today. In the ring, Josh Matthews sits with Mike Bennett and Moose, an interview with no audience. Matthews asks Bennett to start, with how they came together.
"It all started with a little word called 'teamwork', a word I thought Moose understood." Bennett says he paid Moose very well to do one job, and he couldn't.
Matthews asks Moose to respond. "I played in all levels of football, from high school all the way up to the pros, and there's been one constant; egotistical bastards like Michael Bennett." Moose says guys like that get taught lessons. Bennett says Moose needs to get it through his head that this isn't football, and that Moose is jealous of Bennett. Moose says he's aware, but he's still going to teach Bennett a lesson. Bennett is going to get a gift; a one-way ticket straight to hell.
Bennett gets up and yells at Moose to look him in the eyes. Bennett beat the unbeatable Ethan Carter III; he isn't afraid of Moose. At BFG, the crowd will be cheering for Moose when he's done beating Bennett.
Back in the Impact Zone, Madison Rayne is heading to the ring. As she poses on the turnbuckle, Allie comes out. "Attention. Hi, I'm Allie! Mrs. Maria sent me down here to introduce TNA's newest Knockout, Laurel van Ness." Laurel comes to the ring and is terribly dismissive of Allie. She seems to be a fashion plate character, as Matthews and Pope talk about name brands that have made up her ring gear. Pope's reactions here are priceless (like Laurel van Ness' Jimmy Choo boots! (Shut up, Matthews!))
Madison Rayne vs. Laurel van Ness
LVN sends Allie away as the bell rings, and Laurel seems to think Madison should kiss her hand. Madison thinks it's a good idea, too, but seems to think that some elbows to the face are a better idea. Laurel is backed into the corner by elbow smashes, Madison with a couple more for good measure, and then takes to the ropes, big dropkick to Laurel! Laurel escapes the ring, but then starts yelling at Allie to powder her face. Allie looks dismayed at van Ness' dismissal, but Laurel is back in, charges Rayne, drop toehold! Rayne with a front face lock, sends Laurel into the corner, charges, but Laurel rolls out of the way. Laurel charges Rayne but Rayne slips out between the ropes, ducks a forearm and catches Laurel with one of her own, Madison hops the ropes, but Laurel with a poke to the eyes before charging the ropes and smashes Madison to the floor! Madison is holding her knee, but Laurel seems more concerned with tormenting Allie than taking advantage of her opponent. Rayne elbows Laurel, but Laurel smashes Rayne into the apron and rolls her into the ring, covers; one, two– kickout.
Laurel with a snapmare, foot against the back of Madison Rayne and a stomp sends Rayne's face into the mat! Laurel taunts Rayne, runs to the ropes, and stops short before slapping Rayne and taunting her again. Rayne to the ropes, but van Ness chokes her with the middle rope. Laurel stops the illegal choke, taunts the crowd, and grabs Madison to the middle of the ring for a body slam. Laurel covers with a single foot; one, two– kickout.
Laurel yells at the referee, grabs Rayne but Rayne with a cover; one, two– kickout!
Both women up, Madison with a clutching forward roll; one, two– kickout!
Both back up, Madison charges Laurel and ducks a clothesline, Madison off the ropes and pulls Laurel into a rolling cradle; one, two– another kickout!
Laurel with a kick to the midsection, sends Madison to the ropes, Madison reverses, northern lights suplex with a bridge; one, two, t– kickout!
Madison starts laying in with elbows and chops, knockout Laurel down with a rolling elbow. Madison waiting for Laurel to get up, Madison charges, go-behind, pulls Laurel down into a reverse neck lock, but van Ness rakes the eyes. Laurel pulls a blinded Madison into mid-ring, hits the ropes, CURB STOMP! Laurel covers; one, two, three!
Winner: Laurel van Ness via Pinfall (Curb Stomp)
Borash goes to announce the winner, but Allie stops him. "Mrs. Maria wanted me to announce the winner. The winner of the match is Laurel Vanness."
Laurel goes mental on Allie, making her say it again, and right this time. Laurel heads to the back, acting like she's won Miss America.
In the back, Lashley is with his Lethal Lockdown team. Lashley says he'll make sure that either Bennett or Galloway will get a shot as his Championship if they take out Ethan Carter III and the team wins the Lethal Lockdown match. Lethal Lockdown: now with 100% more bounties!
— Commercial break —
In the ring, Drew Galloway stands with the TNA Grand Championship on a pedestal in the center of the ring. This Sunday, Aron Rex and he have a chance to be part of the true main event of Bound for Glory; the final of the TNA Grand Championship tournament. If he'll indulge, Drew would like Aron to come to the ring. Aron obliges.
Drew wants Aron to look at him, not the crowd. They have a chance to make history. But to look to the future, you have to look to the past. When Drew first came here, there were cracks in the foundation, negative opinions about Impact Wrestling. They needed a hero, a savior. That was Galloway. He changed the style, put Impact Wrestling over as the best wrestling on television every chance he got, everywhere in the world. To all the guys in the back, to all the fans, "you're welcome," he says as he mocks Aron Rex by holding the mic like a snifter.
Aron Rex is going to interrupt Galloway's delusional rant in the name of common sense. Get your own tagline, Rex says. Galloway really just said he's the only reason that anyone cares about Impact? Rex said that Drew just "Gallowayed-up". Drew says he'll bite; what's "Galloway-upping"? Rex said that's acting like a six-foot tall piece of greasy-haired crap. Galloway says Aron Rex hasn't proven anything, but Galloway has. He's one of the best in the world. He's going to make the Grand Championship and Rex better start calling him "Sir".
Sunday at Bound for Glory, it isn't going to judges; Rex will beat Drew right in the middle of the ring, "Sir Six-Foot-Five-Greasy-Haired-Piece-of-Crap."
Drew says Rex is funny. That's what he's proven. Rex makes a hell of a stuntman. Rex comes out with his "hallelujah", but nobody remembers the guy that came after the Son of God. Sunday, there can only be one, and that one is Drew Galloway. The two stare-down with the Grand Championship in their hands, and security is already pulling them apart. Drew puts the Grand Championship down and cheap shots Rex! They're pulled apart, but Galloway breaks free and grabs Rex into a sitout piledriver! Galloway holds the Grand Championship high and returns it to its pedestal.
In the back, "We are Decay," Rosemary says, "the most dominant force in this world and the next."
"Hardys are going to find out that when you try to take anything from us," Abyss says, "there are consequences." The Great War is going to be beautiful.
The Hardys will learn that their own cruel twist of fate will come at the hands of Decay. Crazzy Steve wants to shatter the broken Hardys. Rosemary says that when they're done with Reby, even Maxel won't recognize her.
Up next, Reby vs Rosemary.
— Commercial break —
Later tonight, Lethal Lockdown.
A video package going over the war between the Hardys and Decay, starting with the Hardys winning Ascension to Hell leading up to the Great War at Bound for Glory.
Rosemary comes to the ring with the TNA World Tag Team Champions Abyss and Crazzy Steve. They will be on the line against the Hardys on Sunday. Matt and Brother Nero likewise accompany Reby. Reby has grey hair.
Rosemary vs. Reby
The bell rings, and both Reby and Rosemary charge each other. Reby ducks under Rosemary's clothesline and turns around, spearing Rosemary down! Reby fires away with elbows to Rosemary, then picks her up and starts slamming Rosemary's head into turnbuckles. Rosemary puts and end to it with an elbow, then a clothesline takes Reby down. Rosemary mounts and starts hitting elbows and then chokes Reby until the referee makes her stop. "It's beautiful!" Abyss cackles on the outside. Rosemary licks Reby's face before throwing her down. Reby tossed into the corner, and Rosemary shouts "Mother Reby!" at her before driving knees into Reby's gut. Rosemary taunts Matt and Brother Nero, charges the corner, Reby ducks, charges the ring, spinning back kick into the corner! Reby is feelin' it, rolls Rosemary with a snap mare and a big knee in Rosemary's face! Another running knee, and Reby with heavy elbows! Rosemary escapes, but Reby with a kick to the gut as she turns around; Twist of Fate! Reby goes to cover, but Crazzy Steve is up on the apron! Reby confronts him, and turns around– poison mist from Rosemary! The ref rings for the bell!
Winner: Reby by disqualification
Things have completely broken down now as the Tag Team Champions and the Hardys get involved! Brawling on the outside, as Crazzy Steve attacks Brother Nero and Abyss and Matt trade punches. Rosemary is grabbing a table as Brother Nero chases Crazzy Steve up the ramp and now to the production area. Nero chases Steve up a flight of stairs, tossing a chair at him every few feet, catching it, and then throwing it again. Rosemary looks like she wants to put Reby through the table, but Reby fights her off, hitting elbows, trying to knock Rosemary off the apron! Reby smashes Rosemary into the corner, hops to the apron and charges Rosemary– Rosemary catches Reby– Side-Effect off the apron and she puts both women through the table!! Rosemary has grabbed a microphone, "Decay, decay, decay!"
In the back, Lashley and Carter are waiting with the referee for their match and Jeremy Borash. There'll be a coin flip to decide which team will have the entrant advantage heading into Lethal Lockdown. After the coin flip, it's Lashley. Carter says he's looking forward to seeing Lashley out there.
— Commercial break —
Somewhere in the back, outside in a lot, Crazzy Steve and Brother Nero are brawling. Steve has a chair and throws it at Nero's head. "Fade away and classify yourself as obsolete!" Steve yells as he starts gouging at one of Nero's eyes. Nero fights back, gouging at Steve's eyes until Steve lets go.
Abyss and Matt are somewhere else, and charge each other– Matt splits the uprights with a hell of a kick and Abyss falls to the ground yelling "Oh, God!" Matt grabs a ladder and starts beating Abyss with it, yelling "Delete!" with every hit. Matt says Abyss wouldn't like the symphony playing inside his head before biting Abyss' ear.
Crazzy Steve tracks Nero down and starts beating him with a chair. Steve eventually wraps the chair around Nero's neck and sends him into a pillar, and then down to the ground.
Matt kicks at Abyss, and turns his back to the monster. "Sounds like a succulent symphony of angels singing!" Matt says as Abyss grabs a power conduit. Matt turns back to Abyss and Abyss lets him have it! Matt writhes on the ground, unknown amounts of energy coursing through his body.
Steve, Abyss, Rosemary all are on-screen. Decay.
The "Cody Arrives" promo plays.
Earlier today, another sit-down interview. McKenzie Mitchell is sitting with Knockouts Champion Maria and Gail Kim. McKenzie is interrupted by Maria, who says she must've gotten the wrong bio from her stupid assistant. "My name is Maria Kanellis-Bennett, and I am the first lady of professional wrestling, but I am also the leader of the Knockouts Division, and I am the greatest TNA Knockouts Champion ever." Gail Kim cuts her off, saying she can't believe that Maria believes the crap that comes out of her own mouth. She's a bully, a manipulator, and just evil. Gail wouldn't be surprised if she tries to get her own wing in the Hall of Fame, and Maria thinks that's a good idea.
McKenzie tries to regain order. She asks Gail what this match means to her. Gail says that after nine months, she's going to get her hands on Maria.
Maria laughs and says this isn't a wrestling company, it's an entertainment company, and Maria is in the star-making business. So whatever happens at Bound for Glory, she wins. And Gail Kim goes into the Hall of Fame not as Champion, but as second best. Gail says it isn't about the Championship; it's about getting her hands on Maria, and she'll have nowhere to hide. Maria doesn't need to hide, and she's going to kick Gail's ass.
An interviewer asks Tyrus about Bound for Gold. Tyrus says that due to some bad decision-making, he wasn't able to capitalize. Eli Drake pops up and says he has a business decision for Tyrus. Eli hears that Big T is a man that can fix things. Eli knows Big T likes to get paid. He says why don't Big T and E-li D go into business for themselves, together, and both win the Bound for Gold match. Eli's seen what Tyrus did for EC3, for Matt Hardy, and now he wants Big T to do that for Eli Drake, yeah. Tyrus says the only problem he's solving is Eli Drake, and that ass whuppin' is on the house. Eli walks off in disgust.
Josh Matthews runs down the Bound for Glory. Ethan Carter III challenges Bobby Lashley for the World Heavyweight Championship in the main event; the World Tag Team Championships will be defended in the Great War against the Hardys; Gail Kim will be inducted into the TNA Hall of Fame and will also challenge Maria for the Knockouts Championship; Bound for Gold will award one competitor with a shot at the TNA World Heavyweight Championship; either Drew Galloway or Aron Rex will become the TNA Grand Champion; Mike Bennett faces Moose in their first-ever match-up; the debut of Cody, and it looks like Cody has some ink now; "Dream" in script on his chest, just above his heart.
EC3 is with his Lethal Lockdown team. He thanks them all for taking the risk. He says it's good to have Aron here. He knows Gail's induction will be solidified when she becomes Knockouts Champion. Moose is a big-ass dude. Moose says they should do this as a team; all in. Goooooooooo, trouble! Cue the triumph theme from Rudy, what a feel-good moment (not really)!
Hype package for Ethan Carter III challenging Lashley for the World Heavyweight Championship.
Ethan Carter III heads to the ring. The cage is down, and it's time for Lethal Lockdown.
— Commercial break —
Ethan Carter III is inside the Lethal Lockdown cage as Lashley's music hits. Lashley takes his time at the entryway before taking a step back and calling for someone to come out with him. Miracle Bennett's music starts, and it's revealed that Carter's had one pulled over his eyes; Lashley won't be starting the Lethal Lockdown after all!
Lethal Lockdown Match
Team EC3 (Ethan Carter III, Aron Rex, Moose, and Gail Kim) vs. Team Lashley (TNA World Heavyweight Champion Bobby Lashley, Drew Galloway, Mike Bennett, and TNA Knockouts Champion Maria Kanellis-Bennett)
Bennett in the ring and the bell sounds. The two men charge, hitting punches and elbows before Carter gets Bennett in the corner and stomping away at him. They'll have five minutes alone until the second member of Team Lashley hits the ring. Carter backs off Bennett, and Bennett makes him pay by driving him into the corner and shoulder blocking Carter repeatedly. Carter is slammed into the corner, then Bennett charges, Carter gets an elbow up, hops to the second rope, dropkick sends Bennett sprawling. Carter picks Bennett up, Irish whip; back elbow hits Bennett on the return. Suplex from EC3, Carter off the ropes, big flying elbow. Bennett is reaching for one of the Lethal Lockdown weapons, but Carter stops him and chops him to his knees. Carter with a second chop, and then a third. Carter whips Bennett across the ring into the corner, Carter with the EC3 Splash but Bennett moves out of the way, off the ropes, big boot takes Carter down! Basement dropkick from Bennett, and a second one, and a third, as Bennett takes control of Lethal Lockdown. Bennett with a chin lock, but Carter gets up, elbows Bennett off, Carter off the ropes but is caught with a big spine buster by Bennett! Bennett assaults Carter in the corner, punches and kicks, Bennett following Carter as he tries to escape. Bennett whips Carter across the ring but Carter explodes out and lariats Bennett down! Bennett up, back elbow takes him back down. Miracle up again, jawbreaker sends him to the corner, EC3 Splash connects this time. Bennett sent to the ropes, big flapjack has Bennett reeling. Carter looks for the One-Percenter, Bennett escapes, tries for a short-arm Bullhammer, but Carter gets Bennett up for the TK3 instead! The ten-second countdown starts as both Carter and Bennett get to their feet.
Drew Galloway is Team Lashley's second entrant.
Galloway charges down to the ring and immediately takes down EC3 with a big boot. Big knee drop follows up. Galloway picks Carter up and Bennett and Galloway start double-teaming Carter as we go to commercial.
— Commercial break —
As we return to the Impact Zone, EC3 has been going through hell from the beat down by Mike Bennett and Drew Galloway. The countdown starts as the beating continues.
Aron Rex is Team EC3's second entrant.
Rex charges in, laying into both Bennett and Galloway with punches. Rex hammers away at Galloway, Bennett tries to blindside him, but Rex catches him, knees to the chest of Bennett, side Russian leg sweep, Cubito Aequet! But I think Pope called it the "Elbow of Distinction", which is even less correct. For shame. Galloway charges Rex, but Rex with a double-leg takedown and starts landing blows from Galloway's guard. Rex gets a little too overzealous trying to land elbows to Galloway's side, though, and this allows Drew to reverse and mount Rex, laying in with fists to the side of Rex's head! Rex reverses, still in Galloway's guard, but he's landing blows to Galloway's head. Rex stands as he notices Bennett has returned to his feet, and stomps one good, solid time at Drew's face as he notices Bennett staggering towards Carter. Rex approaches Galloway and gets a thumb to the eye as Bennett gets a boot to the gut from Carter. Galloway attacks Rex as Carter stomps away at Bennett in the corner. Rex gets control over Galloway, hitting an elbow and then connecting a head-butt, and he starts to throttle Galloway in the corner. Carter comes over and the two Irish whip Drew into the corner as Bennett gets to his feet, and Galloway splashes Bennett! Bennett and Drew are getting punches right in the face from Aron Rex and Ethan Carter III, respectively, as the countdown begins for the next member of Team Lashley. Carter hammers Galloway down, Rex head-butts Bennett down, and then Aron Rex goes to kick Galloway a bit as Carter takes a breather.
Bobby Lashley is Team Lashley's third entrant.
Lashley hits the ring and Rex is there to greet him. Rex charges for a lariat but Lashley ducks, spinning neck breaker! Lashley up and he goes after Carter, hitting him with heavy elbows and punches in the corner! Vertical suplex from Lashley, and Lashley starts directing traffic. Lashley and Bennett assault Carter in the corner as Galloway takes care of his own opponent at Bound for Glory. Drew is choking Aron Rex and driving his face into the cage alternatingly. Carter is being choked by both Bennett and Lashley. It's mayhem as the countdown starts.
Moose is Team EC3's third entrant.
Moose hits the ring and Bennett is immediately on the charge, but taken right down by a head-butt! Galloway is next, and Moose head-butts the Scot right the hell down! Moose with a big double axe handle to Lashley gives Lashley the first attack he's suffered in Lethal Lockdown! Galloway and Bennett are getting up in the corners, and Moose splashes Galloway! And then charges Bennett for the same! Moose whips Bennett across the ring into Galloway, and then charges the corner to splash them both! Moose choo-choos himself up and runs across the ring, hops up the ropes and uses the cage to deliver a flying body press that takes down both Mike Bennett and Drew Galloway! "Big splash by freakin' Moose!" as Pope puts it! Lashley is back up and takes the attack to Moose, hitting a knee and then elbows. Lashley hits the ropes but Moose meets him in the middle of the ring with a punch to the jaw! Moose choo-choos (sorry, but that's what I see every time he does the fist clench thing,) punch, choo-choo, punch, choo-choo, punch, and Lashley is down! Galloway attacks Moose from behind and starts taking him down, heavy hits, as Bennett attacks Rex. Carter pulls Galloway off Moose, smashes Drew into the corner and lays in as Bennett stomps at Rex. Bennett changes over and attacks Moose with a basement dropkick before punching away. Lashley attacks Aron Rex but Carter starts to attack Lashley, pulling his shirt over his head and backing him into the corner and attacking. Bennett attacks Carter to break it up before another dropkick to Moose. Rex and Galloway are just trading off as the countdown begins. Lashley chokes Carter in the corner.
Maria Kanellis-Bennett is Team Lashley's final entrant.
Maria stalls outside the Lethal Lockdown cage, saying she's not ready, she's not getting in, despite Bennett assuring her that it's okay. Inside, Team Lashley members are getting the upper hand against their Bound for Glory opponents, with Galloway kicking a downed Aron Rex right in the head, Lashley smashing EC3's head into the turnbuckle, and Bennett– no, Bennett is getting a nasty bunch of head-butts by Moose! Bennett in the corner, Moose charges, but Bennett moves out of the way and Moose crashes into nothing! Bennett moves towards the door, now telling Maria to stay out.
Aron Rex landing punches to Galloway, snap suplex, and Lashley is getting punches from Carter! Bennett is standing on Moose's head over the bottom rope, that looks like it hurts, and then gets down to yell at a referee on the outside that Maria isn't coming into the cage. Bennett turns around, Moose is right there with a big punch! Moose shoves Bennett to the corner and starts kicking Bennett in the gut– Bennett with a poke to the eye and a knee to the chest! Carter has Lashley against the ropes, choking him with the middle rope and pulling at Lashley's nose and mouth! Aron Rex gets smashed into the corner by Galloway, chopped across the ring, but Carter is there to help Rex with a chop to Galloway as the countdown begins.
Gail Kim is Team EC3's final entrant.
Gail chases Maria around the six-sided ring, and Maria is trying to get out of the Impact Zone! Gail grabs Maria by the hair as she's trying to get up the entrance ramp, and Gail is going to force Maria into the Lethal Lockdown! Maria hides behind Miracle and as EC3 takes Bennett down with a flying elbow escape the cage because the referee didn't lock it quick enough! Gail Kim is in pursuit, chasing Maria to the backstage area, as Lashley grabs at a bamboo kendo stick, and he starts going after Team EC3 with it.
— Commercial break —
Team Lashley is in control big time as Lashley still brandishes the kendo stick, Drew Galloway has a trashcan, and Bennett is pulling down all the other weapons. They're attacking Team EC3 with them all, and Lashley starts directing traffic. Galloway secures the trashcan in between a set of turnbuckles, Bennett has one of the chairs in his hands, and Lashley tosses down the kendo stick. EC3 crawls and drags himself to the middle of the ring, gets up on his knees, and gives Team Lashley a pair of one-finger salutes. Lashley hits him with bare fists and Bennett starts bashing him with the chair. Galloway with a kendo stick smashes Carter in the chest. Galloway picks Aron Rex up and goes to throw him into the trash can, but Rex spins away and sends Galloway careening into the trash can instead! Bennett grabs his chair and approaches Rex, but Moose with a really big boot smashes the chair into Bennett's face and sends him down! Rex charges Lashley and takes him down with a cross-arm smash, but Lashley doesn't stay down long! Moose is up, Bennett's chair in-hand, and the Impact Zone is in full-on Moose Choo-Choo mode! Aron Rex picks up a kendo stick, and it's Moose and Aron Rex attacking Lashley in the middle of the ring!
Aron Rex presents EC3 with a lead pipe and a downed Lashley, but as Carter goes to take his pound of flesh, Bennett with a cutter outta some place I didn't even see! Moose with the steel chair, but Bennett ducks and connects with a superkick to the chair back into Moose's face! Another superkick to Rex! Miracle has a chair again, heading up the turnbuckles, but Moose with a dropkick straight up connects to Mike Bennett, kicking the chair into Bennett's head and Bennett just kinda slumps into the corner of the six sides of steel. Galloway up, clothesline, Moose ducks, goes for the Gamechanger, but Drew ducks, spins around– Future Shock! Aron Rex is right there as Drew returns to his feet with a smash with the chair, turns around SPEAR BY LASHLEY!
Bennett finally falls out of the corner, Lashley goes for a pin on Rex, but Carter breaks it up.
EC3 is up, it's him and Lashley. Lashley charges, heavy punch, but Carter starts getting more punches in quicker. Lashley shoves Carter away but Carter clotheslines him down! Lashley up and Carter sends him into the cage again and again! Carter picks Lashley up and tosses him into the six sides of steel over the top rope! Carter spies with his little eye a kendo stick, and starts battering Lashley, trapped between the ropes and the cage, in the ribs with swings like he's trying to beat a homerun record! He gets at least fifteen shots in before he tosses the kendo stick aside, and Lashley crawls under the ropes back into the ring proper. Carter gets Lashley up, TK3! Lashley is staggering, bounces off the ropes, EC3 charges, SPEAR! Lashley doesn't pin, he slaps on a side choke, almost like an Anaconda Vice. Carter isn't giving up, he's going for the ropes. It's a cage match; that stuff don't count, ya dumb! Carter gets the rope but the referee won't break the hold, both teams are down, and Carter passes out!
Winner: Lashley by submission (Side Choke)
Lashley celebrates in the middle of the ring, his arm raised along with the TNA World Heavyweight Championship. Lashley with a mic says that he told Carter that Team Lashley would dominate Team Carter. Carter has fought people that could beat him, but not people that could hurt him, and Lashley's stipulation will be No Holds Barred. Lashley leaves Lethal Lockdown victorious. Bobby Lashley is Bound for Glory.
QUICK RESULTS
1) DJZ def. Eddie Edwards to retain the X-Division Championship
2) Laurel van Ness def. Madison Rayne
3) Reby def. Rosemary
4) Team Lashley (Bobby Lashley, Mike Bennett, Drew Galloway, Maria Kanellis-Bennett) def. Team EC3 (Ethan Carter III, Moose, Aron Rex, and Gail Kim) in Lethal Lockdown
This Sunday – Bound for Glory
– Ethan Carter III challenges Bobby Lashley for the TNA World Heavyweight Championship
– The Great War – The Hardys challenge The Decay for the TNA World Tag Team Championships
– Grand Impact Championship Tournament Finals: Drew Galloway vs Aron Rex
– Gail Kim challenges Maria Kanellis-Bennett for the Knockouts Championship
– Mike "The Miracle" Bennett vs Moose
– Bound for Gold – One of ten men will win a TNA World Heavyweight Championship opportunity
– Gail Kim is inducted into the TNA Hall of Fame
– The debut of Cody