Woman pulls gun on pro wrestler during a wrestling show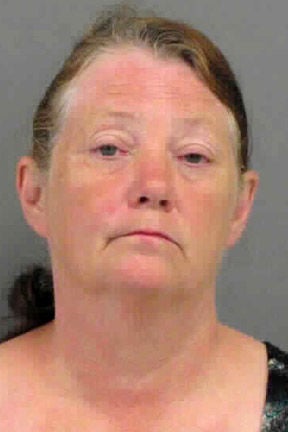 A LaFayette woman was arrested on aggravated assault charges after she allegedly pulled a gun on a popular pro wrestler during a match in Ringgold.
The incident has prompted the promoters to consider installing metal detectors at matches.
According to the Catoosa County Sheriff's Department:
Patricia Anne Crowe, 50, of 604 Chestnut Street, was arrested Saturday, June 4, on charges of aggravated assault and reckless conduct.
She was released from jail Monday evening, June 6, on a $4,000 bond.
The incident occurred around 11 p.m. at the American Wrestling Federation (AWF) arena at 4193 U.S. 41 in Ringgold.
The promotion was putting on its monthly show, when Crowe, a spectator at the event, threatened and attacked long-time wrestler Paul Lee.
Deputies arrived on scene after Crowe allegedly jumped into the ring during the show and pulled a handgun on Lee.
According to Lee and several witnesses, Lee was participating in a match with "Iron Mann," at which time he tied him up and was hitting him with a chair, reports show.
"I had him tied up and was beating on him, and this lady jumps up with a knife, cuts him loose, and then pulled a loaded gun on me," Lee said. "She had that thing loaded with one in the chamber and the safety off. All it would have taken was for her to get shaky with that thing and it could have fired."
Crowe also pointed the gun at the show's commissioner "Robbie Rude," reports show.
Lee says the woman has been to shows before and should have known that the incident going on with the other wrestler was part of the show.
"She's been to several shows over the years off and on, but she was acting like a nut Saturday night," Lee said.
Lee, whose character is a "heel" or "bad guy," often banters back and forth with spectators as part of the show, but it rarely turns physical.
"We've done fraternity shows at colleges and stuff before where drunk college kids will try to run into the ring or something, but nothing like this," Lee said. "In about 1992, at another location, we were doing a show and I got stabbed by about a six-inch blade by a fan. Fans usually don't get involved though, they usually just watch."
According to police Cpl. Chris Faulk, Crowe admitted she pulled the gun on Lee because of the banter the two had engaged in.
"Ms. Crowe did indeed pull the gun on Mr. Lee because of the way he'd talked to her," Faulk said. "She said, 'he was talking mean to me, and I got mad. I guess I just let my temper get the best of me and I pulled my pistol on him'."
Lee says he told Crowe "to sit her toothless self back down," and that she then approached the ring.
Lee added that he's not thrilled with Crowe being released so soon.
"The sheriff's office called me to let me know they let her out Monday on a $4,000 bond," Lee said. "I think it should have been a higher bond than that. She pulled a gun on me in front of kids and everything….it was just crazy."
Approximately 160 people were in attendance during the incident, which has prompted Lee and the AWF to revaluate their security measures at the arena.
"We're going to be installing metal detectors at the entrances," Lee said. "We've already got 'em picked up and will have them installed before the next show. The way the world is today, things happen at movie theatres and malls….you have to take extreme measures to protect fans. We'll have the metal detectors right at the doors when you come in."