John Cena Lands Magazine Cover, Billy Gunn Wins Gold, WWE Studios Doing More Faith-Based Content?
– Billy Gunn won his first indie title since being fired as WWE Performance Center Coach earlier this year at Saturday's Maryland Championship Wrestling event in Joppa, Maryland. Gunn defeated Ken Dixon to become the new MCW TV Champion.
– WWE Studios recently applied to trademark "Clear Water Pictures." This is apparently a company set up to produce and distribute faith-based films, programming, mobile apps and other forms of content. As noted, WWE announced earlier this year that they acquired faith-based movie "The Resurrection of Gavin Stone" with Shawn Michaels, and will release it in July.
– After The Rock closed 2015 with the cover of Muscle & Fitness, John Cena is kicking off 2016 with the cover as he's been announced for the January 2016 issue. WWE notes that the issue looks at Cena's passion and what continues to motivate him. Cena explains that self-improvement and striving to be better is what keeps him going. He commented, "The moment you think you've made it, you're done. That's when you need to go fishing." The cover is on newsstands now and here is a photo from WWE: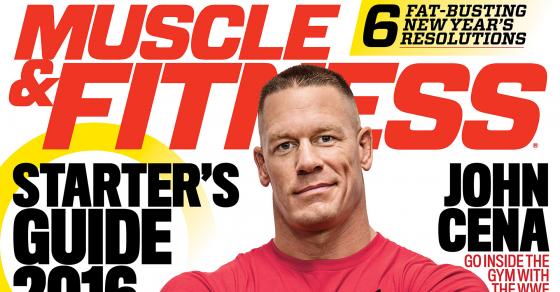 Big Backstage News on Why Sheamus Won the WWE Title, Vince McMahon Nixes Big Turn, New Details on Cesaro's WWE Future, Goldberg Debuting for TNA Soon?, Big WrestleMania 32 Match, HUGE NXT 2016-2017 Exclusive Details, Big News on The New Day, Top WWE Diva About to Get MAJOR Heat?, Very Scary New TNA Situation, Must See New AJ Lee & Lana & Stephanie, Lots of New GIFs & Exclusives, More