WWE RAW Report – 11/24/14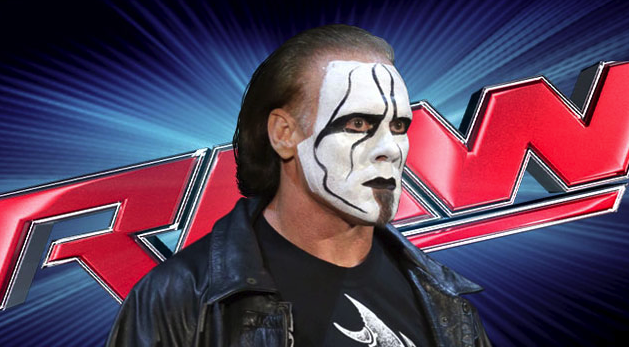 – Tonight's WWE RAW opens up with the Sting vignette and his debut at Survivor Series.
– We're live from Indianapolis with Michael Cole, JBL and Jerry Lawler. We go right to the ring as Triple H and Stephanie McMahon make their way out.
Fans boo and Stephanie says they expected this kind of reaction. She says none of the fans know about respect or what it's like to be a leader. To come out and accept responsibility for your actions and stand in the face of adversity. She says Team Authority would have won if it weren't for one man – Sting. Stephanie goes on and gets emotional. Triple H gets angry and calls them bullies. He addresses Sting and isn't sure why Sting has decided to stick his painted face in their business. Maybe it was an attempt to stand in the ring for 30 seconds with Triple H and make his career relevant somehow. Triple H says it doesn't matter because Sting's first night in a WWE ring was his last. Triple H doesn't believe WWE will last a few weeks without The Authority. He says without The Authority, there is no Dolph Ziggler, no John Cena, no Ryback, no other Superstars and no fans. Triple H promises that fans will beg them back. They go to leave and Daniel Bryan's music hits. Bryan comes out to a "yes!" chant and a big pop.
Bryan does a "yes!" chant in Triple H and Stephanie's face while in the ring. They leave and Bryan taunts them the whole way up the entrance with a "yes!" chant. Bryan returns to the ring and continues the celebration as we go to commercial.
– Back from the break and Daniel Bryan is in the ring. Bryan says it feels good to be here and felt good kicking The Authority out of the ring. Bryan says he's been put in charge of running RAW tonight. Bryan brings out Team Authority – Seth Rollins, Joey Mercury, Jamie Noble, Kane, WWE United States Champion Rusev, Lana, Mark Henry and WWE Intercontinental Champion Luke Harper. Bryan says he's not a spiteful guy, he's fair and is going to prove it. Bryan makes Rollins and two partners vs. John Cena and Dolph Ziggler. Fans can vote on the WWE App and the options are – Henry & Harper, Henry & Kane or Mercury & Noble. Bryan addresses Kane next. Bryan asks fans if Kane should continue to be Director of Operations and a "no!" chant starts. Bryan doesn't want Kane to be jobless but says he's no longer going to be Director. Bryan says Kane's new title should be Director of Food & Beverage. Instead of Corporate Kane, he will now be Concessions Kane. Bryan calls for a hair net and a tray to be brought out to Kane. Bryan sends Kane off to sell popcorn and hot dogs.
Bryan addresses Rusev next – either he compete in a battle royal with all the other Superstars with his title on the line or he come down to the ring with an American flag hanging to recite the Pledge of Allegiance. Lana and Rusev storm off. Bryan makes Harper vs. Dean Ambrose. Harper leaves and Henry follows but Bryan stops him. Bryan says Ryback asked for a match against Henry to avenge his WrestleMania loss and he's going to get it. Bryan mocks Henry and says his match is next.
Mark Henry vs. Ryback
Henry approaches the ring where Bryan is but Ryback's music hits and he runs out. They brawl on the ramp. Ryback sends Henry into the apron and into the ring post. Ryback beats Henry down and we go to commercial.
Back from the break and the bell is just now ringing. Ryback takes it to the corner and hits shoulder thrusts. Henry shoves Ryback across the ring and runs him over. Ryback gets up and slams Henry. Ryback says it's feeding time and fans chant "feed me more." Ryback nails the Meathook clothesline for the win.
Winner: Ryback
– We see Stephanie McMahon, Triple H and Vince McMahon backstage. Stephanie apologizes for letting him down and making him angry. Vince isn't angry, he's just disappointed. He put insurmountable odds in front of them because that's what they will face in the corporate world. Vince says they failed him and he doesn't like that feeling. Vince asks them how the people made them feel and says never forget that. Vince says some how, some way they will fix this. Vince laughs at them being sorry. Stephanie says she really is sorry and he yells at her. He says he's never been sorry for anything but will be sorry for spending Thanksgiving with them. Vince orders them in the limousine and they drive off. Back to commercial.
WWE Intercontinental Title Match: Dean Ambrose vs. Luke Harper
Back from the break and Dean Ambrose makes his way out to a pop. WWE Intercontinental Champion Luke Harper is out next.
Fans chant for Ambrose as Harper stares off. Harper takes Ambrose to the corner but Ambrose turns it around and beats on Harper. Harper fights out of the corner and takes control. Harper drops Ambrose with a shoulder. Ambrose with a drop toe hold. Ambrose mounts Harper with forearms from behind. Ambrose with an arm hold now. They end up on the floor and we goo back to commercial.
Back from the break and Harper has Ambrose down with a headlock. More back and forth as Ambrose comes back. Ambrose tries for another comeback but Harper drops him for a 2 count. Harper with the gator roll now. Harper tosses Ambrose to the floor. Ambrose tries to come back in but gets decked. Harper tosses Ambrose hard into the barrier. Harper throws Ambrose back in the ring but Ambrose meets him with a huge clothesline on the floor. Ambrose brings it back in the ring and they trade shots. Ambrose takes control and goes for a bulldog but misses. Ambrose with a roll up for 2. More back and forth and another pin attempt. Harper with a big headbutt. Ambrose counters a suplex attempt on the apron. Ambrose with a headbutt now. Ambrose runs and dropkicks Harper while he's wrapped up in the ropes. Ambrose goes to the second rope for a leg drop across the back of the neck. Ambrose with a 2 count.
More pin attempts and counters by both. Ambrose knocks Harper off the top. Ambrose with an elbow drop while Harper is standing. Ambrose with a 2 count. Harper nails a big kick to the face for a close 2 count. Ambrose gets decked again but comes back with the big clothesline for 2. Harper grabs his title and goes to leave but Ambrose dives out of the ring and knocks him into the barrier. Ambrose brings it back in the ring. Harper blocks Dirty Deeds and shoves Ambrose into the referee. The referee calls for the bell.
Winner by DQ: Dean Ambrose
– After the bell, Harper drops Ambrose. Ambrose goes to the floor and Harper tries to dive out but runs into a big right hand. Ambrose throws a steel chair in the ring and stomps on Harper's hand. Ambrose drops Harper on the chair with Dirty Deeds. Fans chant for tables now. Ambrose brings a ladder and a table from under the ring. Before he can get back in the ring, Bray Wyatt attacks from behind and beats Ambrose up. Wyatt hits Sister Abigail in front of the announce table and then tosses Ambrose over it. Wyatt buries Ambrose under the announcers chairs and steel chairs. Wyatt stands on top of the announce table and drops another chair onto the pile. Fans boo. Wyatt's music hits and he poses on top of the table. Back to commercial.
– Back from the break and we get Big E's vignette for A New Day.
– Santino Marella makes his way to the stage and introduces his Jingle All The Way 2 co-star Larry The Cable Guy, who oddly dressed to wrestle. Santino says they're not here t wrestle. Larry takes off his mask and says he gave up a colonoscopy to be here tonight. Santino asks if he has any experience. Larry says he beat up Savage one night in Florida. Santino asks if that's Randy Savage? No, it was Fred Savage at a buffet. They go on and are interrupted by Goldust and Stardust, who head to the ring. Back to commercial.
WWE Tag Team Title Match: Stardust and Goldust vs. Damien Sandow and The Miz
Back from the break and out come new WWE Tag Team Champions Damien Sandow and The Miz. We get a sidebar video with The Miz bragging. The Miz has both titles on his shoulders and Sandow has replicas over his shoulders.
They take a commercial break during the match and come back to Sandow getting a big pop as he comes in. Miz gets sent into the steel steps and a trainer checks on him. The end comes when Sandow does all the work but Miz steals a Skull Crushing Finale on Stardust for the pin.
Winners: The Miz and Damien Sandow
– After the match, Sandow and Miz go to the corners to pose but Sandow gets cheered while Miz gets booed.
– The announcer hype WWE 2K15. Still to come, Rollins and two partners vs. Cena and Ziggler. Back to commercial.
– Back from the break and Kane is working the concession stand. A girl walks up and says she's his manager. Kane is being kept away from the deep fryer because he likes to burn things. She says he's in charge of chips and if any go missing, it comes out of his paycheck.
– We go to the ring and WWE United States Champion Rusev is with Lana. She whines and says it's not fair that they have to pick. Rusev says he doesn't care who's in charge of RAW, he's not going to be brainwashed by dumb Americans. Rusev and Lana try to leave but Bryan appears on the big screen. He thought something like this might happen. Bryan sends someone out to supervise and WWE Hall of Famer Sgt. Slaughter makes his way to the ring.
Slaughter has an American flag drop down and they throw a fit. Fans chant USA. Slaughter tells them to put their hands over their hearts and repeat after him. Slaughter says that's an order. Slaughter begins the Pledge of Allegiance but Rusev and Lana won't. Lana starts to but Rusev eventually takes the mic and they leave. Rusev comes back over and talks trash to Slaughter. Rusev backs Slaughter into the corner and yells at him in Russian. Slaughter takes his hat off but the music hits and Jack Swagger runs to the ring with Zeb Colter behind him. Rusev meets Swagger with kicks and stomps away. Rusev charges but Swagger slams him. Swagger applies the Patriot Lock but Rusev escapes the ring.
– Cole hypes tonight's main event. Back to commercial.
– Back from the break and Kane is working concessions again. Santino and Larry The Cable Guy walk up for a hot dog with heavy mustard. Kane squirts mustard all over Santino and tells Larry he's a big fan.
Fandango vs. Justin Gabriel
Justin Gabriel waits in the ring as the "new and improved" Fandango makes his way out. Rosa Mendes dances and waits in the ring.
Fandango controls all of this one. A big CM Punk chant breaks out as Fandango goes to the top and hits the leg drop for the win.
Winner: Fandango
– We see Big Show walking backstage and he doesn't look happy. Back to commercial.
– Back from the break and out comes Big Show. He says he's a person who made a mistake and has made them all the time. Show says he does despise The Authority and talks about what they made him do last year. Show tries to explain himself but isn't sincere. He says if he would have known how the match turned out, he would go back. Show says he's put his body on the line for years and fans owe him one. He wants to start over. Fans chant "you sold out" instead. Show starts yelling at fans for passing judgement. This leads to Erick Rowan making his way out.
Show mocks Rowan and taunts him. Show says the ring is made for men. Fans chant Rowan's name. Rowan takes the mask off as Show approaches. Show says he has no place out here and should go up the ramp before he gets hurt. Rowan says he doesn't like bullies. He attacks Show and beats him into the ropes. Rowan drops Show with a spin kick. Show exits the ring and tips over the steps. Show talks trash but won't get back in the ring.
– Still to come, Rollins and two partners vs. Cena and Ziggler. Voting is still open on the WWE App.
– We see Seth Rollins backstage with The Stooges. They say it will be just like The Shield 2.0 and Rollins hushes them. He says they're great but they don't exactly measure up to his other potential partners. Dolph Ziggler walks in. Ziggler says he believes in The Stooges and just asked his 1.4 million Twitter followers to vote for them. We go to commercial with Rollins frustrated.
Brie Bella vs. AJ Lee
Back from the break and we see Nikki Bella's Divas Title win at Survivor Series. Nikki is in the ring with her sister Brie Bella. AJ Lee comes out with a microphone and congratulates Nikki on turning her life's work into a shiny new accessory. AJ says Brie proved she's a bigger skank than her sister. A CM Punk chant starts as Brie takes AJ to the corner and they go at it. AJ comes back and sends Brie to the floor. AJ follows, ducks a clothesline and decks Nikki. Brie hits from behind and throws AJ back in. Brie with a 2 count.
AJ ends up fighting out of a submission. AJ runs the ropes and hits a Thesz Press. AJ charges in the corner and hits the knee for a 2 count. Nikki distracts AJ, allowing Brie to get the pin and the win.
Winner: Brie Bella
– After the match, the Bellas celebrate as AJ grabs a mic. She says two of them don't even come close to half the woman she is. AJ says it's time someone break it to the Bellas… talent is not sexually transmitted.
– We get more hype for the main event. Back to commercial.
Adam Rose and The Bunny vs. Tyson Kidd and Natalya
We come back and Kidd waits with Natalya as Adam Rose and the Rosebuds come out. Santino Marella and Larry The Cable Guy are on commentary.
The Bunny ends up coming in and stalling with Kidd. Kidd runs into knees in the corner. The Bunny hits a missile dropkick and the hop in the corner. The Bunny humps the air and catches a big kick to the face from Kidd. Natalya tags in and is concerned about The Bunny. Kidd tags himself in and makes Natalya kiss him on the cheek. The Bunny drops Kidd and tags in Rose. Rose with offense and a spinebuster on Kidd for 2. Rose with an uppercut. The Bunny is goofing off on the floor, leading to Rose being thrown into him and Kidd getting the win.
Winners: Tyson Kidd and Natalya
– After the match, The Bunny comes in and tries to explain what happened to Rose.
– We see Ryback walking backstage. Renee Young congratulates him on his win earlier. He thanks her but he's not concerned with that. He says it's almost Thanksgiving and The Big Guy is hungry. He asks if Renee knows where a good concession stand is and walks off laughing. Back to commercial.
– We come back to another new vignette for A New Day with all three members – Big E, Kofi Kingston and Xavier Woods.
– Ryback walks up on Kan working the concessions and says he's hungry. Ryback asks for two cans of tuna, a protein shake with extra protein and a bag of beef jerky. Kane's out of that but tosses a hot dog at Ryback. Ryback shoves him back into the counter and they throw food at each other. Kane runs off and Ryback grabs a bag of peanuts, saying Kane forgot his nuts.
– Renee Young is backstage with Cena and Ziggler. They say the show is about to be stolen and we go back to commercial after another plug for the WWE App voting.
Dolph Ziggler and John Cena vs. Seth Rollins, Joey Mercury and Jamie Noble
Back from the break and Dolph Ziggler is out followed by John Cena. Daniel Bryan comes to the ring next and introduces Seth Rollins. Bryan reveals the WWE App voting next and J&J Security won with 93%. Mercury and Noble make their way out and get ready to fight.
Team Rollins has a rough start and goes to the floor to regroup. Rollins yells at them to get it together as we go back to commercial.
Back from the break and Noble is working Cena over in the corner. Ziggler finally gets the tag and unloads on Noble. Ziggler with a big splash and a spinning neckbreaker. Ziggler drops an elbow and hits a big DDT for a 2 count. Rollins drops Ziggler with a cheap shot while the referee is distracted. Rollins comes in and works Ziggler over now. Ziggler finally gets a tag after going at it with everyone. Cena unloads and hits a Five Knuckle Shuffle on Mercury. Rollins runs in but slides out of an Attitude Adjustment. The Stooges make the save for Rollins from a double team. Cena with an AA on Mercury while Ziggler hits a Zig Zag on Noble. They cover them at the same time for the win.
Winners: John Cena and Dolph Ziggler
– After the match, Rollins goes to leave but Daniel Bryan comes out and throws him back in the ring. Ziggler hits a superkick and Cena hits an AA on Rollins. Bryan's music hits and they get a big "yes!" chant going. We're interrupted by the sound of the anonymous RAW General Manager. Cole reads a message at the podium that says order will be restored on Cyber Monday next week. RAW goes off the air with the sound of the anonymous GM going off over and over.
Big WrestleMania Update, Backstage News from RAW, New Details on WWE's Plans for Sting, Lots of New Survivor Series GIFs, Hot New Kaitlyn & Stephanie & Nikki, More