WWE RAW Report – 10/27/14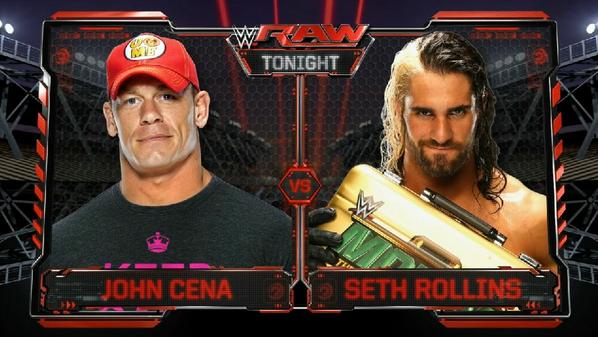 – Tonight's WWE RAW opens up with a highlight video package for Hell In a Cell. We're live from the ATT Center San Antonio, Texas with Michael Cole, JBL and Jerry Lawler on commentary.
– We go right to the ring and Triple H, Stephanie McMahon and Kane are waiting as Lilian Garcia introduces them.
Stephanie welcomes us. She says those who missed Hell In a Cell missed a helluva show but those who watched it on the WWE Network got more than their $9.99 worth. Triple H says it was a bittersweet night with the Cell matches but puts over Seth Rollins. Triple H calls Rollins out to the ring and here he comes with Joey Mercury and Jamie Noble. Rollins limps to the ring but is all smiles as The Authority claps for him.
Stephanie wants a louder pop for Rollins but fans boo. A "you sold out" chant starts up. Rollins thanks the fans and says finally, the "Lunatic Fringe" Dean Ambrose is out of his hair. Rollins says Ambrose is no longer a thorn in his side. Rollins says he proved intellect conquers every single time. Rollins takes credit for taking Ambrose out. Rollins says he's moving on to John Cena now. We get dueling chants for Cena now. Rollins mocks the fans and says later tonight, he's going to be able to "see" John Cena and leave him in a puddle of his own failure. Rollins' music hits and The Authority celebrates but Randy Orton's music hits and out he comes pissed off.
Orton is sorry to break up their little love-fest but he's not happy with Rollins saying he's the self-proclaimed future of WWE. Orton says maybe he lost last night because Rollins hit the Curb Stomp last week. Orton is going crazy and says he feels like checking himself back into anger management but he's here because he made a promise – if The Authority didn't deal with Rollins then he is… Orton drops the mic and attacks Rollins. They're pulled apart but go back at it. Triple H gets in between and says they are not doing this here, tonight. Orton says he will calm down when Rollins is dead. Triple H tells Orton to take the night off, get on his bus and have a drink. Triple H says they will deal with this when it's the right time but emotions are high from Hell In a Cell. Orton lays Rollins out with a RKO out of nowhere while Triple H is talking. Orton leaves the ring and heads to the back. Triple H is pissed. Orton's music hits as Triple H orders The Stooges to get Rollins on his feet. Rollins is dazed and confused. Rollins stumbles out of the ring, apparently wanting to go after Orton. We go to replays.
– Still to come, Rollins vs. Cena. Also, Hulk Hogan will be here live and Goldust & Stardust defend against Big Show & Mark Henry. We go to commercial.
WWE Tag Team Title Match: Mark Henry and Big Show vs. Goldust and Stardust
Back from the break and WWE Tag Team Champions Stardust and Goldust are making their entrance. Big Show and Mark Henry are out next.
Goldust starts the match off with Henry. Fans chant USA. Goldust taunts Henry and blows at him. Henry misses and Goldust beats him with right hands. Henry runs over Goldust with a big splash. Henry tosses Goldust across the ring and in comes Stardust. Stardust gets caught and Henry unloads in the corner. Big Show tags in to a pop. Show takes Stardust to the other corner and works him over with big chops. Henry comes back in and drops Stardust with a right hand. Henry rams Stardust into the corner. Fans chant for Sexual Chocolate and Henry grinds a bit in the corner. Henry keeps up the attack on Stardust. Show tags himself in and Henry gets upset. Show tosses Stardust. Henry tags Show and they argue about the tag hurting. We go to commercial.
Back from the break and Goldust is in control of Show. Show counters and drops Goldust on his face. Show with a submission until Stardust breaks it up. Henry comes in and runs over Stardust, who also tagged in. Henry with a headbutt. Henry goes for a slam but Stardust slides out and takes the knee out. Goldust comes back in and works over Henry. Show cheers on Henry. Stardust stomps away on the knee now.
Henry finally counters but doesn't go for a tag. Henry runs into a boot. Stardust nails a missile dropkick, sending Henry to the corner. Show tags himself in and takes Goldust out. He unloads on Stardust and hits a big spear. Show calls for a knockout punch and nails it on Stardust. Goldust runs in but Show tosses him to the floor. Henry comes in and has words with Show, apparently he wanted to take Goldust out. Henry nails a World's Strongest Slam on Show out of nowhere. Stardust covers for the win.
Winners: Goldust and Stardust
– After the match, Henry yells at the champions from the ring as they make their exit. Show gets up and Henry waits. Henry hits another WSS on Show and the fans boo. Henry yells that nobody chumps him or hits him. Show gets to his feet again and Henry hits a third World's Strongest Slam. Henry runs and drops a big splash on Show. Henry talks some more trash and fans boo as his music hits.
– Still to come, Cena vs. Rollins. We will also get an exclusive interview from Roman Reigns. Back to commercial.
– Back from the break and Renee Young catches up with Mark Henry. He says Big Show is jealous of him, always has and always will be.
– We get a video package on Roman Reigns. We get Reigns live via satellite now. He says he's getting better every day but there's nothing cool about being on the sidelines and he'd do anything to be in San Antonio. JBL asks about Rollins vs. Ambrose at Hell In a Cell. Reigns says Ambrose is his boy and he knew he would bring it. Reigns says Rollins is a weasel and proved that last night. Reigns says Rollins is trying to prove he's the future of WWE but when Reigns is medically cleared, he's going to make Rollins the past. Believe that.
WWE Divas Title Match: Alicia Fox vs. AJ Lee
We go to the ring and out comes WWE Divas Champion AJ Lee. Back to commercial.
Back from the break and Alicia Fox is making her entrance. Paige is on commentary. Paige still calls Alicia her bestie. Alicia strikes first and beats AJ around to start the match. Alicia sends AJ out to the floor. Alicia follows and throws AJ back in for a 1 count.
Alicia with more offense in the corner now. Alicia with a Northern Lights suplex and a 2 count. Alicia keeps AJ grounded now. Alicia goes on and gets a 2 count. Alicia screams and goes back to a headlock. AJ finally turns it around and drops Alicia. AJ makes a comeback but Alicia catches her in a backbreaker. Paige kicks Alicia in the back and screams at her to win. AJ takes advantage and gets the pin on Alicia.
Winner: AJ Lee
– After the match, Paige comes in the ring and apologizes to Alicia. Paige offers Alicia something but kicks her in the gut when she gets close. Paige sends Alicia to the floor and throws her into the barrier. Paige catapults Alicia into the barrier and slams her head into it several times. Paige says Alicia is a bad best friend and throws her jacket at her. Lawler gets up to protect Alicia now. Fans chant for Lawler as Paige's music hits and she taunts them.
– Cole talks about the Reigns interview we just saw. Cole shows us stills of how Bray Wyatt returned at Hell In a Cell. Cesaro vs. Dean Ambrose will take place tonight. Up next, the new #1 contender John Cena will speak. Back to commercial.
– Back from the break and out comes new #1 contender John Cena to a big mixed reaction.
Cena gets a pop for mentioning the San Antonio Spurs raising their championship banner tomorrow. Cena says last night may not have been the last chapter in Orton vs. Cena but it was one of the best. He says it was an epic night. Cena says he has earned the right to face Brock Lesnar for the WWE World Heavyweight Title. Cena says while Lesnar sits at home and thinks he's a champion, he's here every night fighting like a champion. When Lesnar decides to come back to WWE, he will realize that he's going to lose their next encounter. Cena says everything he does from now on will be a statement to Lesnar, just like last night. Cena says the self-proclaimed future of WWE will get a first class wake-up call tonight. Cena says he likes to say the future goes through him but tonight, he goes through the future. Stephanie McMahon's music hits and out she comes.
Stephanie congratulates Cena on his win last night. She says Survivor Series will see a traditional elimination match. Stephanie has a business proposition for Cena and talks about how he interacts with the fans. She says the people don't matter and what they care about is seeing Cena lose, tear himself apart and leave it all on the line. They care about blood, guts and seeing people tear each other apart. Stephanie says Cena does all this every night, but for why… fan appreciation? She says Cena can join The Authority. She tries to sell him on the idea and a "no!" chant starts. She says maybe The Authority could guarantee Cena a win over Lesnar. She says maybe the winner of tonight's main event can be the winner of Team Authority at Survivor Series. Cena cuts a promo and says hell no, he will never sell out. Triple H's music interrupts and out he comes.
Triple H says "told ya so" to Stephanie. He tells Cena he's been here twice the amount of time and it gets harder every year. Triple H says Cena is just getting by every night but it doesn't have to be this hard or as hard as it's going to get. He says the business is about longevity and doing the right thing over time. Or you can beat the beat up old shell of yourself that comes down to the ring for one last hooray. Triple H goes on and says maybe this conversation isn't what Cena needs, maybe Triple H has to prove to Cena that you can't stop the future. He says The Authority will make an example of Cena at Survivor Series. He tells Cena to find someone to stand with him against Team Authority. He announces Team Cena vs. Team Authority and talks more at Cena.
– Still to come, Cena vs. Rollins. Back to commercial.
The Usos vs. Damien Sandow and The Miz
Back from the break and both teams are in the ring. The Miz starts off with Jey Uso. Fans chant for Sandow to be tagged in. Uso misses a superkick but drops Miz for a 2 count. Jimmy tags in for some double teaming in the corner. Miz drops Uso with a big knee to the gut. Miz gets a pop for teasing the tag to Sandow but he stomps away on Uso instead. Sandow stops on Uso as Miz distracts the referee. Uso comes back with a big right hand on Miz and a clothesline to the floor. Sandow lays beside Miz and The Usos both run the ropes and leap out. We go to commercial.
Back from the break and Miz rams Uso into the apron on the floor. Miz rolls hm back in and hits a boot to the face for a 2 count. Miz with a headlock now. Miz with more offense and another pin attempt. Sandow tags in and keeps up the attack. Sandow with a suplex and a 2 count. Sandow keeps control and hits a big DDT for another 2 count. Miz and Sandow with some double teaming for another 2 count. Sandow whips Uso into the corner but wastes time and runs into a boot. Uso finally makes the tag and unloads on Miz. Uso nails a Samoan Drop. Uso charges in the corner but misses. Uso nails a crossbody from the top for 2. Miz blocks a superkick but Uso blocks a Skull Crushing Finale. Uso with a roll up for Sandow breaks the pin. The Usos pull "twin magic" and Miz gets rolled up for the win.
Winners: The Usos
– After the match, Miz and Sandow throw a fit as The Usos make their exit.
– We see John Cena talking to Dolph Ziggler backstage, asking him to join Team Cena at Survivor Series. They shake hands but we couldn't hear what was being said.
– Still to come, Hulk Hogan. Back to commercial.
– Kane approaches Dolph Ziggler backstage and says there's a report going around that he was talking to John Cena. Ziggler acknowledges this. Kane says he can only take that as an act of aggression against The Authority. Kane tells Ziggler he will see him in the ring.
– We go to the ring and Lilian Garcia introduces Hulk Hogan.
Hogan talks about how happy he was to see John Cena beat that no good Randy Orton at Hell In a Cell. Hogan says he can't wait to see his champion take on the stinky beast Brock Lesnar and win the title back. Hogan gets a pop for Susan G. Komen and we see a group of breast cancer survivors at ringside. Hogan thanks WWE for letting him join the fight this month. He says October is winding down but the fight continues day after day. Hogan says these women are the real Superstars and inspiration. Hogan asks the women to stand up so the crowd can cheer for them. Hogan talks more and his music hits. Hogan invites the group of women in the ring with him to celebrate and do the Hulkster poses.
– Bo Dallas is backstage headed to the ring for an open challenge. We go to commercial.
Bo Dallas vs. Ryback
Back from the break and out comes Bo Dallas. Bo says he issued an open challenge earlier tonight and now it's time to find out who Bo-lieves they can beat him. The music hit and out comes Ryback to a pop.
Ryback gets a big "feed me more" chant and dominates Bo. Bo tries to make a comeback but Ryback cuts him off. Ryback nails the Meathook clothesline and Shellshocked for the win.
Winner: Ryback
– After the match, Ryback gets a big pop and starts another big "feed me more" chant.
– We see Dean Ambrose backstage. Back to commercial.
Cesaro vs. Dean Ambrose
Back from the break and Cesaro makes his way out. We see a WWE App segment from earlier tonight where Orton bragging about hitting the RKO on Rollins. Dean Ambrose makes his way out next to a big pop.
Ambrose stands on the announcers table and cuts a promo. He says he beat Rollins to death but when he got to hell, he found Bray Wyatt. He doesn't care how Wyatt did what he did and says you don't screw with Dean Ambrose. Fans chant Ambrose's name as he hits the ring and decks Cesaro with the microphone. Ambrose unloads on Cesaro with the microphone as the referee tries to stop him. Cesaro rolls to the floor but Ambrose is all over him with the mic. Ambrose unloads up the ramp and beats Cesaro to the stage, still hitting him with the mic. Ambrose gets a pop and asks where Wyatt is. Ambrose goes back to the ring and calls Wyatt out. Wyatt appears on the big screen. Every time he looks at Ambrose, he can't help but see his own deranged reflection staring back at him. He says they're both victims of a system that makes men torture. He says this world is not made for them. Wyatt asks what happens next. He says he's not Ambrose's brother or his friend. Wyatt tells Dean to run.
– The lights come back on and the announcers are talking. Still to come, Cena vs. Rollins in the main event. Cole talks about Team Cena vs. Team Authority at Survivor Series.
Nikki Bella vs. Naomi
Nikki Bella makes her way out and her assistant Brie Bella is there. Nikki whispers something to Brie and tosses her hat at her. We go to commercial.
Back from the break and Naomi goes at it with Nikki. Nikki with an Alabama Slam and some stomps for a 2 count. Nikki keeps control and chokes Naomi on the ropes. Naomi finally makes a comeback and hits a dropkick. Naomi goes on and kicks Nikki in the back before hitting a pair of knees for a 2 count. Nikki rolls to the floor in front of Brie. Naomi throws her right back in. Nikki runs into a kick. Brie barely grabs Naomi's ankle but it distracts her. Brie looks embarrassed. This allows Nikki to kick Naomi off the apron. Nikki brings it back in and hits the Rack Attack for the win.
Winner: Nikki Bella
– After the match, Brie enters the ring and raises Nikki's arm but doesn't look happy to do so.
– Still to come, Cena vs. Rollins. Also, Kane vs. Ziggler. Back to commercial.
Kane vs. Dolph Ziggler
Back from the break and out comes Kane. WWE Intercontinental Champion Dolph Ziggler is out next for a non-title match. This is Ziggler's punishment for talking to Cena earlier.
Ziggler unloads on Kane but Kane runs over him with a big shoulder. Kane with stomps to the head now. Kane drops Ziggler over the top rope and kicks him in the head. Kane with a boot to the throat now. Kane keeps control and hip tosses Ziggler in from the apron. Kane with a headlock now. Fans chant for Ziggler and he fight to his feet. Ziggler tries for a comeback but Kane hits a big knee for another pin attempt. Ziggler manages a jawbreaker and dumps Kane to the floor. Kane gets back on the apron but Ziggler dropkicks him off. We go to commercial.
Back from the break an Ziggler is making another comeback but Kane catches him for a powerbomb. Ziggler blocks it and drops Kane on his face. Ziggler unloads on Kane in the corner. Ziggler leaps and Kane knocks him out of the air. Kane covers for a close 2 count. Kane beats Ziggler into the corner and hits a headbutt. Kane with more kicks. Kane takes Ziggler down and hits a dropkick for a 2 count. Kane keeps Ziggler grounded now.
Kane breaks the hold but beats Ziggler back to the corner. Kane whips Ziggler and follows with a splash. Kane runs into an elbow this time. Ziggler takes the leg out and Kane is down in the corner. Ziggler mounts Kane in the corner with right hands. Ziggler with a neckbreaker now. Ziggler drops an elbow for a 2 count. Kane counters and hits the sideslam for a 2 count. Kane goes to the top but misses on the way down. Ziggler hits the Fame-asser for a 2 count. Kane catches a kick and goes for a chokeslam. Ziggler counters that and nails a superkick. Kane with another block and a big boot for a 2 count. Kane goes for another chokeslam but it's countered with a roll up for the win.
Winner: Dolph Ziggler
– After the match, Kane argues with the referee. Ziggler goes to the floor to celebrate but is attacked from behind by Seth Rollins. Mercury and Noble re also out. Rollins brings Ziggler in the ring and Kane joins in for the double team. John Cena's music hits and he rushes the ring. Rollins leaves but Cena unloads on Kane and sends him out of the ring. Cena helps Ziggler to his feet as The Authority retreats. We go to commercial.
Seth Rollins vs. John Cena
Back from the break and John Cena waits in the ring as Seth Rollins makes his way out with Noble and Mercury. Rollins ends up taking control early on. Mercury gets a cheap shot in. Rollins keeps control and throws him back out to both Mercury and Noble this time. Rollins goes back at it and hits a suplex on the floor. Rollins brings Cena back in and works him over in the corner.
Rollins keeps control and goes for another pin attempt. We go to commercial with Rollins putting a knee to Cena on the mat.
Back from the break and Cena is fighting back on the floor. He tosses Noble into the barrier. Rollins grabs Cena and throws him shoulder first into the steel steps. Rollin comes back in the ring an the referee counts. Cena makes it back in and Rollins stomps away. Rollins mounts Cena with punches now. Rollins with a headlock. Cena looks to make a comeback but gets launched out of the ring. Rollins runs the ropes and leaps out onto Cena. Rollins hurts his taped ribs by hitting the announce table.
They make it back in at the 8 count and Rollins covers for a 2 count. Rollins drop Cena with a right hand. Rollins climbs up for a superplex but Cena knocks him to the mat. Cena hits a crossbody for a 2 count. Rollins blocks an Attitude Adjustment and hits a big DDT for a 2 count. Rollins keeps control and kicks Cena back out of the ring. Rollins throws Cena into the barrier. Rollins wastes some time but rolls Cena back in and goes to the top. Rollins comes off the top and nails Cena with a knee for a 2 count. Rollins with more offense on Cena. Noble gets some cheap shots in as Rollins distracts the referee. Cena finally makes a comeback and hits the Five Knuckle Shuffle. Noble gets on the apron and distracts Cena. Rollins charges but Cena dumps him onto The Stooges. Cena brings Rollins back in but gets kicked in the head for a 2 count.
More back and forth. Cena drops Rollins on his head with a tornado DDT for another pin attempt. Rollins lands on his feet out of an AA. Rollins misses a spin kick. Rollins blocks the STF and kicks Cena off. Rollins with a kick to the gut and another big shot for a 2 count. They end up in the corner. Rollins counters for a powerbomb but ends up carrying Cena across the ring and doing the powerbomb into the turnbuckle. Cena still kicks out at 2. Cena blocks a Curb Stomp and locks in the STF. Rollins calls for help and Kane runs in.
Winner by DQ: John Cena
– After the bell, Rollins and Kane beat on Cena until Ziggler makes the save. The entire locker room runs out next and we've got a big brawl. Rollins and Kane retreat while chaos unfolds in the ring. Triple H and Stephanie come to the stage and stand with Kane, Rollins, Mercury and Noble. It comes down to Heath Slater taking an AA from Cena. Bo Dallas takes one as well. Cena stands tall and stares at The Authority as his music hits. RAW goes off the air with The Authority and Cena taunting each other.
WWE RAW Photos and Breaking News, Lots of New HIAC GIFs, WWE Working on Heel Turn Plans, Big Backstage Report on Paige, Spoiler on Heyman & Lesnar, Hot New Galleries, More