Former WWF superstar says Big Daddy V's widow lying about him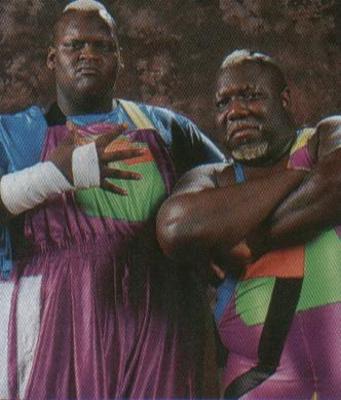 From Evan "Tech" Prout:
Oscar from former WWE fame (Men on a Mission group) stopped by Under the Mat Radio to set the record straight on Cassandra Frazier Widow of Big Daddy V claiming Mo didn't pay any money raised and so much more! You can listen to the full interview below; here are some of the highlights:
Oscar on how much money was really raised during the funeral preparation:
"I was in constant communication with her (Cassandra Frazier). Mo was broke before this happened, he was broke while it happened and he's broke now. When they say hundreds of people gave donations that's a lie. It was not hundreds of people giving donations because once it was asked to give donations people started making side way comments and Mo shut that down. He went on Facebook and other social media and stated that he was already having problems with donations and he'd prefer you'll just not do it."
Oscar on who did send donations:
"He (Big Daddy V) had a few close friends in the business that when they did send in donations Mo has proof that he sent the money over to her. There's a text from Christopher Costa where he stated that he sent a card to her with money in it"
Oscar on accusations from Cassandra stating that Mo is holding on to money worth over 6 figures:
"6 figures??! The man (Mo) needs a kidney transplant and been trying to raise money for not only months but years. If he had 6 figures then he would have a mechanical kidney right now. He had a donor his daughter and he has insurance but there's a co pay of over $20.000 he has to pay."
Oscar also discusses how many people actually showed up at Big Daddy V funeral, on why he feels Cassandra is really stating these lies and much more in this exclusive 120-minute interview on Under the Mat Radio.
http://tobtr.com/s/6937935