Full Report from the 2014 WWE Hall of Fame Ceremony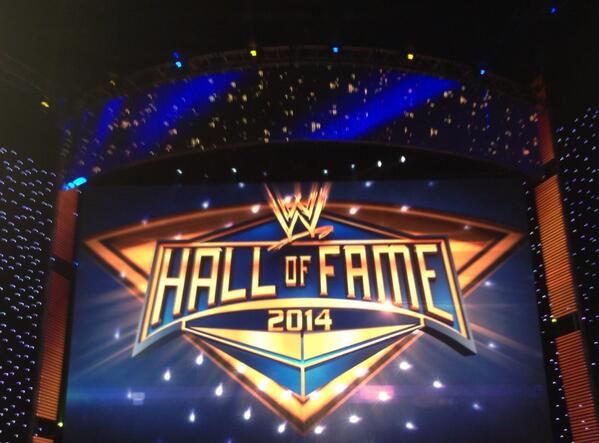 – The 2014 WWE Hall of Fame Red Carpet Special opens up with Michael Cole and Maria Menounos. They talk about tonight's ceremony and we go to Renee Young on the red carpet. We're going to be going back to her for interviews. Renee talks about how excited she is for her first ceremony. Cole talks about how we have members of the media from all over the world. We go back to Renee and Roman Reigns. Reigns talks about how important of a night this is. This is Reigns' first ceremony as a WWE Superstar.
– We go to Byron Saxton on the red carpet. He stops Maryse and The Miz. Miz talks about looking forward to seeing The Ultimate Warrior inducted. He also jokes that Maryse still wants a match with Lita. Saxton cuts Miz off and we go back to Renee. She has Hulk Hogan and his wife Jennifer. Hogan says this is as big as it gets for him. We also see Brooke Hogan and Nick Hogan. We go back to Menounos and Cole before jumping back to Saxton. He talks to Pat Patterson about how special it is to be in the Hall. We go back to Renee and Randy Orton. Orton compliments Renee on her look. We hear fans chanting for Hogan in the background. Orton talks about inducting his father back in 2005. Orton is looking forward to Warrior's speech and says he didn't come out during rehearsals. We see Orton's new girlfriend next to him. We go back to Maria and Cole, who talk to Summer Rae and Fandango about dancing, WrestleMania and the Hall of Fame.
– We come back from a WrestleMania promo and Byron Saxton is with The Usos, Naomi and some of their friends. Jimmy Uso is looking forward to Carlos Colon's induction. Naomi is looking forward to Lita's induction because they were both athletic Divas. Renee has Booker T and Sharmell on the red carpet. Sharmell says last year was her favorite but says it's always a great night at the Hall of Fame. Booker talks about being proud of Lita's induction. Booker says he told Mr. T to make sure and mention his wife in his speech. Renee sends it back to Cole and Menounos, who has Dolph Ziggler for comment. Ziggler talks about the Andre the Giant Memorial Battle Royal and says Sheamus is the biggest threat. Ziggler flirts with Maria and says he's a big fan. Ziggler talks about how special it is to be here after watching these legends as a kid. We go to another promo.
– We come back and Renee is with Roddy Piper and his family. Piper is most looking forward to Mr. T's speech. Piper says he will come after T if he has to. Saxton is on the red carpet with Alicia Fox. She talks about what it's like to be a presenter at the Hall of Fame. We go back to Maria and Cole. Jerry Lawler and his girlfriend Lauren walk up. Lawler will be the host of tonight's ceremony. Lawler says this is his favorite night of the year. Renee is with Natalya, her sisters and Tyson Kidd. Natalya talks about proving she's the best at WrestleMania. Saxton is on the red carpet with Tamina Snuka. Tamina talks about all of her family members that are in the Hall. She talks about how the Hall is motivation for every Superstar and Diva. Tamina is with The Rock's mother and daughter. Saxton talks to Rock's mom about how special the Hall of Fame is. She hopes Rock will be inducted one day. Rock's daughter also talks about how excited she is. Menounos and Cole are with Big Show. Show talks about wanting to win the Andre the Giant Memorial Battle Royal. We've been seeing side videos of other stars arriving with their families. We go back to Renee and she's with Steve Austin. Austin gives Renee props for her enthusiasm. Austin says this is one of his favorite events. Austin is looking forward to Bray Wyatt vs. John Cena at WrestleMania. He talks about having respect for Brock Lesnar and The Undertaker and says he would like to see Taker keep The Streak intact. Austin talks about having fun in New Orleans this week and some of his many favorite WrestleMania moments. Austin and Renee pick on Cole wearing a singlet and we go back to Saxton, who is with Cody Rhodes and Brandi "Eden" Rhodes. Rhodes also talks about how the Hall of Fame is motivation. Cole and Maria are with Alberto Del Rio and his family. He talks about inducting his father before and the battle royal at WrestleMania. One of Del Rio's sons talks about being excited to be at his first WrestleMania.
– Renee is with Hacksaw Jim Duggan, who is riled up and ready to go. Duggan talks about the fans and what it was like to film Legends House. He says Tony Atlas was a big pain in the butt and a prima donna. Duggan is looking forward to Jake Roberts' speech. He says there's no chance Lesnar will defeat The Undertaker. Saxton is on the red carpet with Zeb Colter, who is twisting his beard. Zeb says it's great to see guys he competed against get inducted. Zeb says these men are well deserving of their inductions. Cole and Menounos are with John Cena and Nikki Bella. Cena agrees that this is the most important night of the year for WWE. He predicts tonight's ceremony will be one for the ages. Cole brings up the past beef between Maria and Nikki. Nikki says she was hurt at SummerSlam and wants a rematch. We come back from a promo and Saxton is with Cesaro. Cesaro says he considers himself a throwback so of course he enjoys the Hall of Fame. Cesaro talks about learning from history and says tonight's class is unbelievable.
– Maria and Cole are with Triple H and Stephanie McMahon. Stephanie says the Hall of Fame is one of her most favorite events of the year. Triple H says he's a big history buff and this is the biggest night for him. Renee is with Santino Marella, his girlfriend and daughter. There's a magic Scooby-Doo mirror that they take a selfie in. She presses a button and tweets it out. Byron is with Arn Anderson. Arn says tonight is an honor like none other. Arn says the Hall of Fame is the end of the rainbow, if you think about it, and if you don't aspire to be a Hall of Famer then you're spinning your wheels. Cole and Maria are with Bruno Sammartino. We hear "yes!" chants start up and see Daniel Bryan and Brie Bella hitting the red carpet. Bruno talks about being excited to see this year's ceremony. Renee is with Bryan and Brie. Renee points out the big reaction Bryan just got. Bryan is excited about this year's inductions. Brie can't wait for Lita's speech. Bryan says with all luck, they both will walk out of WrestleMania with gold. We go to a break.
– We come back to Cole and Maria, now inside the arena. We go to Byron and Ted DiBiase, Sr. DiBiase says it's a very humbling experience to be inducted. He's excited to be here and excited for everyone going in. Renee talks to Ryder about the Hall and being in the battle royal tomorrow. Ryder says winning the battle royal would mean getting his career back. He calls it his Last ReZort. Back to Cole and Menounos. She talks about being a fan of Warrior and Jake. Saxton is in the crowd with Sgt. Slaughter. Slaughter talks about how incredible the Hall of Fame has become. He's most looking forward to Warrior and talks about their history. Slaughter says he hopes Warrior leaves the ego at home. Renee is in the crowd with Damien Sandow. Back to Saxton, who is with Mick Foley. Foley talks about how special it is to be here and gets a cheap pop from the crowd. Foley asks WWE not to cut to him during Jake's speech so we won't see him crying. Cole and Maria hype the Hall one last time and that's it for the pre-show.
– The 2014 WWE Hall of Fame induction ceremony kicks off with a video package, looking at the Hall itself and this year's class. We're live and have a packed house. Jerry Lawler is introduced and will be tonight's host. Lawler comes out to a big pop. Lawler says tonight is going to be a celebration. From a high-flying extreme Diva to a Superstar who personified intensity and charisma. Lawler says it's his honor to share the stage with tonight's inductees. Lawler shows us a WrestleMania hype video set to Kid Rock's song.
– Lawler introduces the induction video for Lita and she will be tonight's first inductee.
– Lawler introduces WWE Hall of Famer Trish Stratus and out she comes to do the honors for Lita. Trish reveals Lita is the godmother of her child and says it's fitting. Or maybe it's fitting because how their careers have paralleled. She talks about how they debuted near each other and retired near the same time. Trish talks about Lita's career and gets a pop when she brings up Team Extreme. Trish says Lita was an equal member of that group. Trish talks about how Lita loves animals and other stuff away from wrestling. Trish introduces Lita, calling her her bestie. Trish says this is Lita's long dress debut, which is a big deal. Lita's theme hits and out she comes to a big pop.
– Lita thanks everyone for the moment and says she's super into it. A "thank you Lita" chant breaks out. Lita says she's ready to have some fun. She talks about wanting to become a wrestler and going to Mexico. She tells a story about calling a travel agent for a trip to Mexico. She says there was a travel warning not to travel there unless you had official business. She had official business – she was to become a professional wrestler. She brings up Arena Mexico and it gets a small pop from some fans in the crowd. She talks about the excitement of seeing that first lucha event in person and says we can all relate with WrestleMania XXX tomorrow. She goes on about working in Mexico and brings out a mask she kept from someone there. The crowd boos at one point but it sounds like it was something in the crowd or they wanted her to put the mask on. She gives a shout out to Rey Mysterio and talks about watching him. She talks about coming back to the States and trying to find Rey at a hotel after a wrestling event in Georgia. She says she didn't see Rey but she ran into Arn Anderson. She says Arn got her to meet Rey by giving her his hotel room number. She says Rey came out of the hotel elevator and didn't make her feel like an idiot for saying she was going to Mexico to become a wrestler. She says Arn then said she owed him a Miller Lite for making the meeting with Rey happen. Lita says she's a woman of her word and has two Miller Lites brought out for Rey and Arn. Trish and Lita take a shot of wheat grass. Arn toasts Lita and drinks his. It looks like Arn got both beers and the usher didn't give Rey his. They finally get Rey his beer. He and Arn toast Lita together to a big pop from the crowd. Lita then talks about spending 6 months in the original ECW. A huge "ECW" chant breaks out in the crowd. She also talks about working with Edge. She claims the most slut-tacular wedding dress in WWE history. She also talks about working with Kane and Snitsky. She talks about James Cameron personally picking her to be in the finale of Dark Angel and during filming, she got dropped on her head and knew something was wrong. She went back to work for WWE and doctors told her that her neck was broken. She brings out her bobblehead doll and says this happened at the same time the doll came out. There are more boos from the crowd but apparently it's because the big screen in the arena keeps going out. She talks about wanting to get advice from Steve Austin when the neck injury happened. Austin brought her down to Texas to go to the doctor with him and then have some BBQ in San Antonio. She wore an Austin 3:16 tank top into surgery. She says after that surgery, she went on to have many more successful years in WWE. Lita says she has a lit of thank you's and thanks Danny McDevitt from MCW, Christian York, Bob Mercury, Ace Steel, the Funkin' Dojo, Tommy Dreamer, who got a big pop and is in attendance, Lisa Marie Varon, who is also in the crowd. Lita brings up their steel cage match. She says she's proud to share the locker room with the group of girls she worked with. Lita thanks Manami Toyota and says she's never met her but is blown away by her. She thanks Luna Vachon, Terry Taylor, Tom Prichard and Jim Ross. She thanks JR for his commentary and advice. She thanks Mickie James, Essa Rios and Team Extreme. She mentions The Hardy Boys, The Dudley Boys and Edge & Christian. She thanks members of the WWE crew who are still working for the company. She mentions WWE crew member Frank Bullock, who passed away recently. She thanks her best friend Trish and talks about their lifetime friendship. She thanks her mom and her brother for supporting her. She says they have asked her for 0 autographs over the years and that's priceless. She thanks some of her friends and the punk rock/hard rock scene. She talks about what the punk music scene meant to her. She encourages us to find our punk rock, our lucha libre, and let it lead us to our life. She says punk rock taught her she could be whatever she wanted to be and here she is. Lita's music hits and she gets another standing ovation.
– Jerry Lawler comes back out and introduces the induction video for Jake "The Snake" Roberts. Lawler brings out Diamond Dallas Page to a big pop from the crowd. DDP thanks the crowd and gets his name chanted. DDP is proud, humbled and honored to be here tonight. He says there's some kind of divine intervention going on because tonight is his 58th birthday and he couldn't ask for a better present… the crowd starts chanting happy birthday to him. DDP says the fans are amazing. He is getting to see 2 of his boys rising up to receive the recognition they deserve. DDP thanks Triple H and says it's very cool of him. DDP says without Dusty Rhodes, there is no DDP. DDP says Dusty was his mentor but he had another mentor who taught him the art of pro wrestling. DDP says he lived with Jake back in 1994. DDP says he was just fired from WCW but Dusty and Jake believed in him at 36. DDP talks about how he talked Kimberly into letting Jake move in with them. Kimberly had one condition – no snakes in the house. DDP says he learned more sitting next to Jake on the couch watching their matches. He says Jake started to get him bookings on the road. He tells a story about a snake going missing in their home. DDP says he never stopped learning from Jake. Jake taught him how to get over in and out of the ring. Jake prepared him for the main events and the world championships to come. DDP says it's a debt he's been working on paying back ever since. This gets an applause. DDP looks to get emotional. He says Jake wrote the book on ring psychology. DDP says every single thing Jake did in and out of the ring had purpose. He praises Jake's in-ring work, his interviews and his feuds with Ricky Steamboat, Rick Rude and Randy Savage. All three names got pops. DDP says they started another journey about 18 months ago when they began living together again. DDP calls it a wild roller coaster. He calls it the resurrection of Jake The Snake. DDP says their big dream 18 months ago was to be on this stage, on this very night and here they are. The crowd pops. DDP thanks God. He says dreams can true as long as you're willing to put the work in. DDP says trust him, Jake has put the work in. DDP says to never underestimate the power you give someone by believing in them. The same goes with yourself. DDP proudly presents his mentor, his friend, his brother, the prodigal son, the one and only Jake "The Snake" Roberts. Jake's music hits and out he comes with a Diva on each arm.
– Jake comes to the podium and a "thank you Jake" chant starts up. Jake gets choked up and shakes his head. He says all of a sudden he forgot what he was going to say. He says he's always loved professional wrestling and always loved the men that did professional wrestling because they're special men, a breed of their own. Jake talks about seeing legends come up when he was a kid. Jake says he hated wrestling because his father wrestled and he never saw his father. Jake blamed wrestling and says that wasn't the truth, it was the man. Jake says he hated that but be damned if he didn't do the same thing. Jake says he walked away from the responsibilities of raising a family because he fell in love with something called wrestling. Jake says he didn't have a minute to spare in any day because he loved wrestling. He should have shared the time more wisely but doesn't regret his love for wrestling because there's nothing like it. Jake talks about controlling the emotions of fans. Jake almost says something inappropriate and says that was close. See DDP, he's getting better, he says. Jake changes his mind and says what the hell, "bleep" people's emotions as WWE edited it out. Jake says the rush from wrestling is addicting. Jake says it hurts he can't do it anymore. Jake points out Steamboat. A "you still got it" chant breaks out for Jake. Roberts says he's ashamed to say that the only woman he never cheated on was the ring. He says he was a rotten son of a bitch and it's not funny. Jake says at some point your heart becomes so sour you can't just love one woman. He says the other problems like drugs and alcohol start rolling in so you can medicate the pain you have from the ring and the pain from your family. Jake says that really sucks. He says you can't look the woman in the eye any more and you're tired of lying to your children. Jake gets emotional again. Jake asks what do you have left at that point, not much. If you're alone like he was, you make some bad choices. You decide you want to be gone. He would get angry with God when his friends would die. He didn't want to commit suicide because it would hurt his children. Jake says for some reason, one person sticks a hand out. That person for him was Diamond Dallas Page. Jake says he was hell bent, he didn't give a damn any more. He was drinking and doing drugs every day, he didn't want to leave. He says anyone who knows DDP knows how much of a stubborn, rotten no good son of a bitch he is. Jake says he's so positive and just won't shut up. Jake says Dallas saved his life and he knows this. Jake is so grateful that DDP saved him. Jake says DDP used the fans during the process. He talks about using Indiegogo to raise money for his shoulder surgery. Jake thought nobody gave a damn about him but fans chipped in over $30,000. Jake says that woke him up and showed him somebody does care. Jake says God gave him a great amount of talent. He says the fans got some of it and he's ashamed he wasted most of it. But he's so happy tonight. Jake says he's so happy because he's got some special people here. They're called family. Jake has a hero and he's just 18 months old. A man in the crowd brings a small boy up to the stage and Jake holds him at the podium. Jake talks about how the boy and his sister have had health problems. He tells Vince McMahon to get his writers ready because this boy and his sister will be at WrestleMania 50. Jake says he doesn't want to cry, he just wants to get back to his family. He tells his kids to stand up in the crowd and they do, with their kids. Jake says they are his heroes. He loves them and the gave him a second chance. Jake says God bless the WWE because they gave him one too. Jake thanks us and his music hits.
– We come back from a promo and Jerry Lawler is interrupted by Hornswoggle running around screaming. El Torito comes out and chases him around. Lawler gets in between them and tells them to stop. Hornswoggle leaves. Torito faces off with Lawler and charges him below the belt before running off. Fans boo this. Lawler introduces the induction video for Mr. T.
– Lawler introduces Mean Gene Okerlund to do the induction for Mr. T. Gene tells some jokes and calls Mr. T one of his longtime friends. Gene talks about T and Hulk Hogan facing Roddy Piper and Paul Orndorff with Bob Orton at WrestleMania I. Gene talks about some of T's acting. Gene brings out Mr. T's son T Junior. He introduces his father and out comes T to a standing ovation.
– Mr. T says it's an honor to stand with the best in wrestling and to be honored. He stops and says a prayer, thanking God for making everything in his life possible. T asks for a few minutes to pay tribute to his mother. He thanks us in advance for his patience and understanding because it means a lot to him. He promises he won't go too long and hopes he won't bore us. T talks about his mother raising him and his 7 siblings with the help of God. T is the 8th son, the 10th child. He says they grew up in poverty with crime and drugs all around. He says they never did crime and drugs because they loved their mother. T goes on for several minutes and talks about the song he recorded about treating your mother right. T actually gets a "yes!" chant started after he names off all the different holidays he loves his mother on. He's just trying to tell us how he feels about his mother, he says. A "this is awesome" chant starts next. T talks more about being poor but says they were rich spiritually because their mother taught them values. T talks more about his mother. His whole speech has been about his mother so far. T says all he ever wanted to do was be a good son to his mother. T says he drew a picture of a house when he was 9 and grew up to buy her that house and pretty dresses. He goes on until he starts thanking all 7 of his big brothers. T praises all of his brothers for what they did in life. T thanks his daughter but says she can't be here because she's studying for a degree. T goes on to thank his son. All of a sudden, Kane's music hits. They stare at each other. T extends his hand and Kane shakes it. Kane says something and walks back out. T says he's sorry and they've told him his time is up. Kane says he's sorry a few times and leaves. Very awkward.
– Jerry Lawler comes back out after a Legends House promo. Lawler says we all love Mr. T's mother after hearing his speech. Lawler says he pities the fool that doesn't love T's mother. Lawler brings Kane back out and without speaking, we go right to the Paul Bearer induction video.
– Kane apologizes but says he wanted to talk about his "daddy" Paul Bearer. Kane talks about William Moody becoming a wrestling fan as a kid and getting involved when he was a teenager. Kane talks about Bearer coming up and making it to WWE, making The Undertaker the most unique and greatest character in WWE history. Kane goes on about how Bearer made it a mission to destroy Taker, then revealing a secret from Taker's past – Kane. Kane says he may be bias but believes the Taker-Kane saga was the most epic piece of storytelling WWE has ever done. He says it wasn't possible without Bearer. He says Bearer was the bridge that connected Taker and Kane. He talks about spending time on the road with Bearer. Kane says he owes Bearer the most because if there wasn't a Paul Bearer, there wouldn't be a Kane. Kane says he is forever grateful. Kane talks about Bearer's life after WWE and how Bearer interacted with fans on social media. Kane says William Moody went to join his wife this past spring. Kane talks about the outpouring of sentiment from fans around the world at his funeral. He says Bearer was an international superstar. Kane talks about Bearer's role in The Undertaker's match at WrestleMania 29. He says that would have been a fitting memorial for Bearer, to be on the grandest stage of them all one more time. Kane calls Bearer one of the greatest managers of all-time. He brings Bearer's sons, Michael and Daniel Moody to the stage to accept the honor. They thank everyone on behalf of the whole Moody family for being able to share their father with us. One of his sons does a good "oooh yes!" impersonation and that's it. All of a sudden, the lights go out and The Undertaker's theme starts up. Taker makes his way out to the stage, in character, and with the urn in hand. An "in memory of" graphic shows on the big screen as Taker hold the urn high in the air.
– Jerry Lawler comes back out after a Cena vs. Wyatt promo. He shows us the induction video for Razor Ramon. We come back and Lawler introduces Kevin Nash to do the honors. Nash comes out to the nWo theme song.
– Nash starts off with "the Bible says grey hair is a sign of wisdom." He says Scott Hall told him to speed up the speech because people have to wrestle tomorrow. Nash talks about getting into WWE and going against Razor for the Intercontinental Title. Nash says Hall took him to the place he needed to be, the place where they could make a lot of money. He talks about traveling with Razor and Shawn Michaels. Nash says he's acquired four brothers in this business – Shawn Michaels, Triple H, Sean Waltman and Hall. Nash says this is very emotional for him. He introduces Razor Ramon and out comes Scott Hall with a Bella on each arm. Hall gets a big pop and does his strut. He and Nash embrace at the podium.
– Hall gets a pop and starts off with a "hey yo" for another pop. He talks about falling in love with wrestling as a kid and getting in the business when he was in his 20's. Hall learned he had power when he stepped through the curtain and he was digging that. Hall says when you asked Razor how he was doing, the standard response was, "better than you Chico." Hall thanks all the fans. A "thank you Razor" chant starts up. Hall says he had the privilege of working with and being mentored by great talents. He thanks them. Hall gets a little emotional. He says in his lifetime, he's learned that hard work pays off, dreams come true, bad times don't last but Bad Guys do. The crowd pops and that's it, much shorter than the others.. Razor's music hits. Out comes The Kliq – Triple H, Waltman, Nash and Michaels for a reunion on stage.
– Lawler comes back out after an Orton vs. Batista promo but he's interrupted by Bad News Barrett. Fans chant "Bad News Barrett." He says he's got some bad news and the fans say it with him. Barrett tells the Superstars in the crowd that this is the closest to the WWE Hall of Fame that they will ever get. Barrett thanks everyone and that's it. He gets an ovation and laughs from his co-workers. Lawler introduces the induction video for Carlos Colon.
– Lawler introduces Primo, Epico and Carlito. They come out to Carlito's theme song. A big "Carlito" chant breaks out. He says he's used to working in bingo halls and high school gyms so this is nice. He says it's been a long night so let's get it over with. Carlito jokes about them bringing out the Colons right before the main event. He says and they got their time cut so it's like he never left. Primo talks about Colon getting into wrestling at the age of 14. They talk about the greats Colon feuded with and what he did for wrestling in Puerto Rico. They introduce Colon in Spanish and out he comes with Eva Marie and Layla.
– Colon asks for a minute to take everything in and says he never imagined he would be here. He talks about getting into wrestling and going from country to country. Colon talks about some of the top stars he feuded with and how wrestling is a family tradition for his family. He speaks for a few minutes in Spanish and points out his mother in the crowd. Colon thanks us and that's it. He leaves to another ovation.
– We come back to Lawler and he introduces Linda McMahon to do the induction for Linda. She says she was highly flattered and honored when he called her to do the induction. Linda says this is her favorite WWE event. Linda says Warrior is a truly unique individual. She says Warrior changed his legal name to Warrior because he believed in living life with the principles of a warrior. She said it always brought a smile to her face when he would rush out of the curtain and hit the ring. Linda says Warrior wanted her to be his direct personal contact when he came back last time because she understood his passion. She talks about how Warrior would vent. Linda introduces Warrior, who comes out with his daughters.
– Warrior comes out to a pop. He says this is the most anticipated speech and says a lot of seats in the front are squirming. He gives shout outs to his wife and mother in the front row. Warrior talks about his mother providing when his father took off. He points out his daughters, calling them his Warrior girls. Warrior says he did a lot during his career but the most awesome thing he will ever do is be their father. Warrior says he was backstage with some of the younger talents sitting there and he was thinking how awesome this is. Warrior couldn't believe this was happening after everything. This leads to a big plug for DDP Yoga. He's excited about starting the program and gives credit for DDP Yoga helping people defeat their self destructing ways. Warrior says he promised himself he wouldn't say those two words. He thanks Triple H for the energy he put into putting this deal together. Warrior talks about being at WWE headquarters and says it was like the old DVD never existed. Fans chant "one more match" and Warrior says they're being kind. Warrior says that's not going to happen but other big things will happen. Warrior says he's never interacted with anyone in this business that hasn't taught him something. He talks about training with Red Bastien. He brings up Sting and that gets a pop. He talks about working for Jerry Jarrett with Dutch Mantel, Jerry Lawler and others. He talks about going to the Watts territory with guys like Steve Williams, Ted DiBiase. He tells DiBiase he somewhat fashioned his clothesline after Ted. Warrior looks for Ted in the crowd and gives him a shout out. Warrior talks about working for WCCW and starting the Dingo Warrior gimmick. He talks about the Von Erichs, Bruiser Brody, George Scott and others. Warrior wishes they could put the "F" back in WWE and this gets a big "yes!" chant from the crowd. Warrior can't believe WWE lawyer Jerry McDevitt got his ass kicked by the Wildlife people. Warrior talks about going to work for WWE and thanks Jose Estrada, the first guy he worked with. He gives a shout out to Steve "Brooklyn Brawler" Lombardi and he gets a pop. Warrior thanks Terry Gibbs, the first guy he wrestled on TV. He says when he saw the old DVD, it made him angry and pissed off but it also broke his heart, as far as stories about him not being one of the boys goes. He says recently one of the guys he had a classic match with went on the record to say he was a good guy. Warrior says he is a good guy and was. He wants to thank the Superstars you never see, the people that work behind the scenes in WWE. He says they are the ones that make this happen and that gets an applause. He jokes that WrestleMania 75 will definitely happen, when the owner isn't around anymore but takes it back and says Vince will live forever. Warrior suggests that WWE induct behind the scenes people each year. He would call it the Jimmy Miranda Award. Jimmy was a guy who sold merchandise before the big days of merchandise. Warrior says he wouldn't be here tonight if it wasn't for all the Ultimate Warrior fans. He says the fans are legendary. He talks about fans fighting back against the lies and the attempt at history being re-written. Warrior says he's here because of the fans. A "thank you Warrior" chant starts up. Warrior is thankful for the chance to just be him. He says he and Sting to a shot in the business because they respected the veterans. Warrior talks about meeting Vince. He says you only saw Vince on MSG events or TV tapings and guys would always complain about their checks on the road, saying they were going to give Vince a piece of their mind when they saw him at TV. He says every guy came out of their meeting with Vince with a bobbly head. He says it was magic working in the business. He says it was awesome to be larger than life. He says there are few legitimate tough guys in this business and the rest of us get to play that role. Warrior gives Cena a shout out for his work with Make-A-Wish. Warrior says he also knows that Cena is a big Warrior mark. Cena smiles and nods his head. Warrior talks about how he did a Make-A-Wish appearance and how special it is that wrestlers get to do that. Warrior goes on about how WWE gives talents the tools they need. He says he thinks about the business every single day. He talks about guys blowing up in the ring for several minutes. He says his entrance made him get blown up but he still pushed through the match. Warrior goes on and says nobody ever said anything to his face and he was always respectful. He talks about the DVD again and says it was just wrong, that's all. Some fans chant for him to shoot. Warrior says he's honored to be inducted. Warrior reveals he's working as an ambassador under a multi-year deal with WWE. Warrior goes on and on, saying he's a Legend now. He tells WWE's younger talents to take advantage of the time they have now. We see Jimmy Uso yawning. Warrior thanks everyone for coming and tells everyone to enjoy WrestleMania. Goodnight from Warrior. His music hits and the crowd gives him one more ovation to end the ceremony.
Live WWE Hall of Fame Photos & Backstage News, Big Sting-WrestleMania Update, Bryan vs. HHH Major Spoiler, Tons of New WM Week Photos, More