3/28/14 WWE Smackdown Recap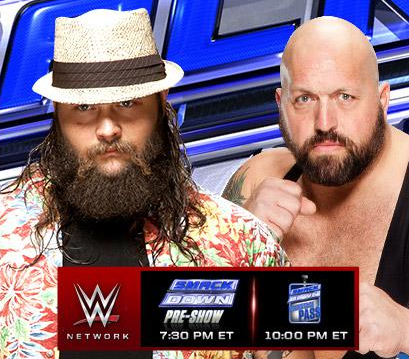 by Brian Leeman
The show kicks off with Batista. Batista talks about the Daniel Bryan beatdown and Triple H comes out. Triple H and Batista argue and Batista mentions that he always beat Triple H. Triple H said he made Batista and that the current Batista isn't the Animal. He makes Sheamus/Batista for later.
Match #1
Ambrose & Rollins vs Mahal & McIntyre
McIntyre and Mahal actually get in a bit of offense here. Rollins dives out of the ring onto Mahal while Ambrose slingshots off the ropes and hits a clothesline on McIntyre. Headlock Driver from Ambrose for the win.
Kane comes out with The Outlaws and books Rollins/Ambrose vs Ryback/Axel
Match #2
Ryback & Axel vs Rollins & Ambrose
This match is a tad longer. Ryback and Axel work over Ambrose. Rollins makes the hot tag and hits Axel with a running elbow and flying boot. Ambrose dives onto Ryback on the outside. Rollins dives over the ropes onto Ryback and Axel. Rollins hits The Blackout on Axel for the win. Triple Powerbomb to Ryback after the pin.
Winners: Ambrose & Rollins
Match #3
Sin Cara vs Damien Sandow
Sin Cara does his usual high flying moveset. Sandow grounds him and gains some offense but Sin Cara gets the win via roll up.
Winner: Sin Cara
Match #4
Fandango vs Goldust
Goldust and Fandango go back and forth in the early going. Fandango takes control of Goldust and beats him down. Goldust gets back into it, but a distraction from Summer Rae leads to Fandango kicking Goldust in the head for the win.
Winner: Fandango
Match #5
Batista vs Sheamus
Batista and Sheamus square off and go back and forth. Batista hits a nasty spinebuster. Batista dodges a Brogue Kick by leaving the ring. Sheamus goes after him. Batista hits Sheamus with a chair.
Winner va DQ: Sheamus
Batista with a Batista Bomb before declaring himself as the next champion.
Match #6
Bella Twins vs Tamina & AJ Lee
AJ and Tamina work together on Nikki. Tamina has enough of AJ and throws her right into the facebuster from Brie for the win.
Winners: The Bella Twins
Comedy segment with Santino & Emma. Santino says they're just friends with benefits.
Match #7
Jack Swagger vs Jimmy Uso
Swagger grounds Uso for the majority of the match but Jimmy comes back with some hot offense. Flying cross body from Jimmy to Swagger. Jimmy goes for a running hip attack but Swagger takes out his leg with a chop block. Swagger gets a hold of the ankle and wins with the Patriot Lock.
Winner: Jack Swagger
Match #8
Miz vs Mark Henry
Miz gets Henry over the top rope but Henry tosses him into the steps. Henry makes light work of him and hits the Worlds Strongest Slam for the win.
Winner: Mark Henry
Main Event
Bray Wyatt vs Big Show
Big Show starts off with the upperhand, overpowering Bray. Rowan and Harper get involved and Bray pulls off the win via Sister Abigail in a very short main event.
Winner: Bray Wyatt
The Wyatt Family stands over Big Show to end the night.