2/21/14 Smackdown Recap
by Brian Leeman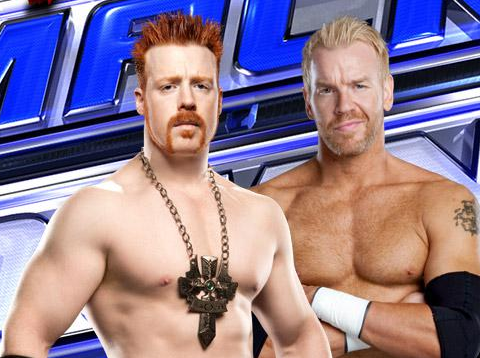 We start off the show with Daniel Bryan!
Match #1
Daniel Bryan vs Jack Swagger
Bryan with some kicks in the corner to Swagger Swagger rolls out and escapes. Swagger takes control and tosses Bryan into the ring post. Swagger works over the damaged arm of Bryan. Swagger with a double leg takedown while holding the arm. Bryan counters Swagger with the running knee for the win!
Winner: Daniel Bryan
Kane and Vickie Guerrero come out and announce Bryan is going to face Cesaro.
Match #2
Daniel Bryan vs Antonio Cesaro
Cesaro continues to work over Bryan's damaged arm. Bryan with a drop toe hold into the corner. Cesaro jumps off the top rope, connecting his knee into Bryan's arm. Bryan tosses Cesaro out of the ring. Bryan with a suicide dive to Cesaro. Zeb distracts Bryan and Swagger attacks him, referee ejects both of them. Flying dropkick from Bryan. Bryan hits the running knee after being battered but Kane attacks him.
Winner via DQ: Daniel Bryan
Kane chokeslams Daniel Bryan, Cesaro then hits the Neutralizer on him.
Match #3
Wyatt Family vs Rhodes Brothers & Rey Mysterio
The Wyatt Family works over Goldust in their corner. Harper and Rowan make frequent tags between each other. Hot tag to Cody Rhodes, who cleans house momentarily. Mysterio in and getting beaten down by the Wyatt family. Goldust eventually gets the hot tag and cleans house. Goldust goes for Shattered Dreams on Rowan but Bray attacks and hits Sister Abigail for the win.
Winners: Wyatt Family
Summer Rae vs Emma dance contest. Summer dances to boo's, Emma gets fairly big cheers. Emma wins and Emma dropkicks Fandango out of the ring with Santino's help.
Match #4
Dolph Ziggler vs Titus O'Neil
Titus beats down Ziggler while talking trash to Darren Young at ringside. Ziggler with a crossbody. Neckbreaker from Ziggler, big boot from Titus. Young starts blowing the whistle that Titus used to use and Ziggler wins via roll up!
Winner: Dolph Ziggler
Match #5
Road Dogg vs Jimmy Uso
Road Dogg beats down Jimmy and locks in a chin lock. Jimmy fights out and gets hit by the shake rattle and roll before hitting a full nelson bomb. Road Dogg goes for a pumphandle slam, only for Jimmy to counter and hit a superkick for the win.
Winner: Jimmy Uso
Main Event
Christian vs Sheamus
Sheamus with a big body block to Christian. Sheamus in control in the early going. Sheamus spears Christian into the barricade. Christian flips Sheamus over the barricade. Christian takes control, stomping away at Sheamus and working on the arm. Christian and Sheamus trade blows to the head. Christian climbs to the top but Sheamus tosses him off. Sheamus with a spear into the corner and a powerslam. Tornado armbreaker from Christian for two. Sheamus with the clubbing blows to Christian's chest. Christian slams Sheamus into the ring post and rolls him up for two. Sheamus reverses a tornado DDT attempt into the Irish Curse backbreaker. Christian dodges a Brogue Kick by rolling out of the ring but then eats the White Noise for a Sheamus victory.
Winner: Sheamus
And that's the end of the go home show, going into Elimination Chamber!