AS I SEE IT 8/29: Thoughts on Finn Balor and Mr. Fuji
AS I SEE IT
Bob Magee
Pro Wrestling: Between the Sheets
http://pwbts.com
Sad news this week for wrestling fans at both sides of the spectrum.
The week opened with the news that Finn Balor's injury at SummerSlam was far worse than expected, and that Balor…who many including Daniel Bryan (on a WWE Network podcast) said should have been called up far sooner…would have to give up the WWE Universal Championship he had won only hours before.
You have to give him credit for being a trooper, doing interviews with TMZ.com to put over his victory dinner with his parents, and did a "morning after" interview on ABC's Good Morning America with the belt with a smile on his face…as he said later, knowing he'd have to give up the belt that night on RAW (long before that was made public).
His WWE.com interview stated "…turns out the surgery was a lot more complicated than first anticipated. Any hopes of being back in four months have been crushed, and it's gonna be at least six months of rehabilitation. Never in my life has six months felt so long. I don't know how I'm going to cope with being out of the ring for that long."
First hopes were for little more than a shoulder dislocation (a shoulder Balor popped in during the match itself) . But Tuesday's surgery was far worse than hopes for. What was an expected one hour surgery turned into a four hour surgery as the first scans hadn't showed the 180* labrum tear, torn bicep and pectoral tendon, cartilage damage, and fracture to the glenoid neck socket (I have it in a jar on my dresser). A diagram of the area for reference can be found below: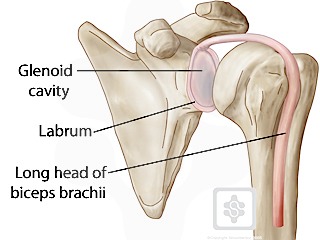 (Courtesy: Shoulderdoc.co.uk)
So Balor is looking at six months out at least. It seems especially unfair for this t have happened at the very moment he achieved a career dream; even a career with accomplishments as being three time IWGP Junior Heavyweight Championship in 2010, 2011, and 2012, 6 time IWGP Junior Heavyweight Tag Team Championship (twice with Minoru, and four times with Ryusuke Taguchi), as well as the NJPW Best of the Super Juniors winner in 2010 and 2013, and the NXT Championship in 2015-2016.
So a mini-title tournament was held last Monday at RAW in Brooklyn, with the fatal four way final tonight with Roman Reigns, Big Cass, Seth Rollins, and Kevin Owens fighting it out for the WWE Universal Championship.
Rumors for the winner run rampant as to the obvious being a Roman Reigns win; speculated by some as the reason the final wasn't held in Brooklyn…as you can imagine the live reaction in a town with smart fans who were all set to celebrate Balor as Champion and would have left with Reign as winner. Next most likely is Seth Rollins, which might have been more likely had Balor's injury kept him out for a shorter time, to build a Balor-Rollins rematch. Then, if WWE wants to pull off a surprise, give Owens the belt…not hard to figure, with Jericho likely hanging around to pull off interference.
But it won't be Balor until at least Wrestlemania next year.
Then there was yesterday's news of the passing of Harry Fujiwara (far better known as Mr. Fuji) yesterday at 82. Most people only think of Fuji as the manager of heel wrestlers and tag teams galore, including George Steele, Don Muraco, Demolition (Ax and Smash), The Powers of Pain (Warlord and Barbarian), The Orient Express (Pat Tanaka and Akio Sato) and Yokozuna.
But long time fans also remember his early career success in the Hawaii territories with King Curtis Iaukea, and his W/WWF tag team titles with Toru Tanaka and Mr. Saito.
He was also known backstage as the "king of the ribbers" with more wrestling ribs played on more people than any wrestler in history. The only people in wrestling history comparable were Owen Hart (read the Bret Hart book).
Fuji will no doubt be remembered at the beginning of tonight's RAW…and well he should be. The history of his career is all over WWE.com for those who'd like to learn.
Until next time…
(Visited 62 times, 1 visits today)