Tidbits: Jim Cornette, Chris Sabin, Sabu, So Cal Val, Brock Tessmacher, and more
– Time to roast Jim Cornette: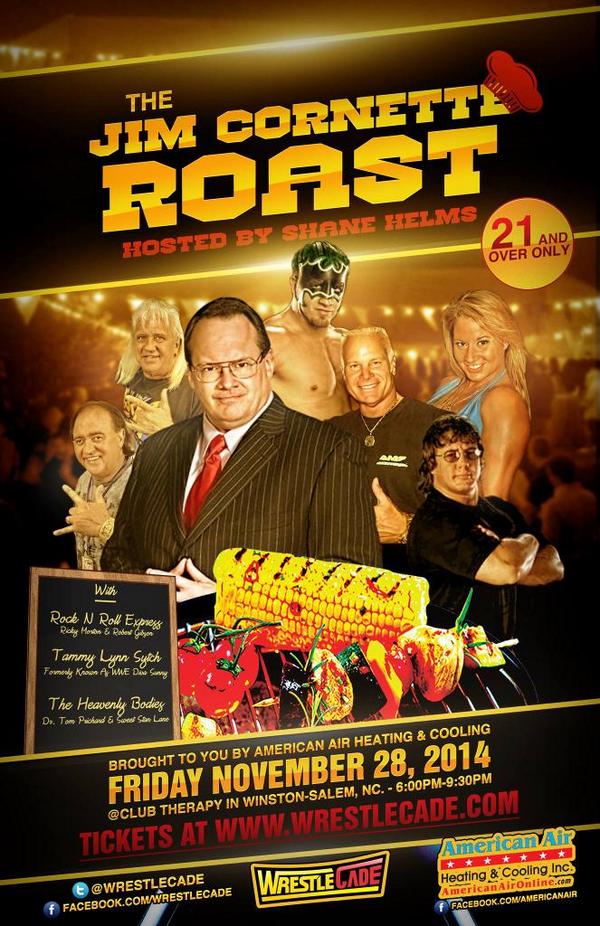 – Jersey Championship Wrestling has announced the full Jersey J-Cup Roster (for 11/14 in Manville):
* Bandido Jr.
* Joey Janela
* Jigsaw
* Lucky tHURTeen
* Chris Dickinson
* Aaron Epic
* Chris Sabin
* Grim Reefer
* Mr. 450 Jesus De Leon
* Rich Swann
* Brian Myers (Curt Hawkins)
* Lance Anoa'i
* Pinkie Sanchez
* Shane "Swerve" Strickland
* Frightmare
* Sabu
The first match of the 2014 J-Cup Tournament is scheduled for 7:45pm on Friday, November 14th at the Manville VFW Hall. Doors will open to fans one hour prior to bell time. Tickets are available now at www.JerseyChampionshipWrestling.com or by calling the JCW ticket line at (201) 257-8621. Card subject to change.
– Look who showed up at Shine 21 on Friday:
– Filed to GERWECK.NET:
NJ based indy promotion Pro Wrestling Syndicate has released a new weekly web show entitled Monday Night Mayhem.
Below is the premier episode from Mon Aug 25, 2014 featuring full matches including an epic encounter between Jerry Lynn and Lance Storm !
– From Blimp Blimp: I thought that you may be interested in knowing that Steve O'Neill from Extreme Rising fame has already returned to pro wrestling. He is handling the Internet marketing and production duties of Stonecutter Wrestling (stonecutterwrestling.com), which is headed by his long-time Urban Wrestling Federation business partner Steve Karel. It produces pro wrestling Pay-Per-Views. The whois info shows that O'Neill owns the Stonecutter web site.
CZW has licensed footage to Stonecutter to produce CZW PPVs. O'Neill also does the voiceovers of the CZW and other ad videos that are at http://www.youtube.com/user/stonecutterwrestling/videos (for example, http://www.youtube.com/watch?v=NTnIGawtWsE). It is O'Neill's voice on all of those advertisements.
Extreme Rising did have a pretty packed roster. They had Stevie Richards, Rhino, Jerry Lynn, Sabu, and Matt Hardy, yet the issue always seemed to be that shows were being cancelled and postponed.
– And lastly, is Brooke Tessmacher trying to persuade the voters in the Hot 100 women of wrestling tournament finals?
#Token RT pic.twitter.com/sniUMLhfv0

— Brooke Adams (@RealBrookeAdams) August 24, 2014
(Visited 26 times, 1 visits today)