6/26 WWE NXT Recap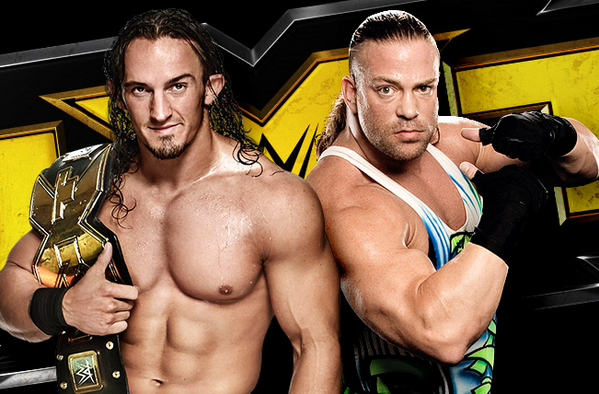 WWE NXT
June 26, 2014
LIVE! From Full Sail University
by Emerson "Suck it monkeys, I'm going corporate!" Witner
Any questions, comments concerns or emotional outbursts? Contact me:
e-mail: ewitner@yahoo.com
Facebook: www.Facebook.com/Krazy.E.Man
Twitter: @TheReallyRealEW
Here's what you need to know about NXT:
-The NXT Champion is Adrian Neville, who became champion during NXT Arrival on February 27, winning a Ladder Match against Bo Dallas, who had been champion for 260 days
-They also have Tag Team Champions, Konnor and Viktor, better known as The Ascension. They won the belts on October 3, defeating Adrian Neville and Corey Graves
-Charlotte is the NXT Woman's Champion, becoming the second title holder on May 29 at NXT Takeover, pinning Natalya in the finals of a tournament set up when JBL stripped Paige of the title.
-John "Bradshaw" Layfield is the Interim General Manager of the show, replacing Dusty Rhodes who Triple H fired in a power trip.
-The announce team is constantly rotating with some combination of Byron Saxton, William Regal, Brad Maddox, Alex Riley, Rich Brennan, Jason Albert (formerly Tensai), Renee Young and Tom Phillips
And that's everything you need to know about NXT. (Now we know!) (And knowing is half the battle) (G.I. Joe!)
-Before I get started I invite all of you to tune in every Wednesday night at 10:00pm EST to the Wrestling Outsiders Podcast. Join my brother Brian and I over at http://www.blogtalkradio.com/wrestlingoutsiders as we look at past WWE, WCW and ECW pay per views. This coming Wednesday it is a special episode, where we interview Bryan Alvarez of F4WOnline.com regarding Death Of WCW.
1.) The Vaudevillians defeated T Perkins and Matt Sugarman
We kick this week off with the second appearance of the Vaudevillians. A combined height of 12 feet, 7 inches was how Aiden English introduced themselves with the losing team of T Perkins and Matt Sugarman, who is a big fan of Bastion Booger.
Perkins looked like he couldn't handle the off beat shenanigans in the ring and didn't want to tag in. either that or he knew they were getting the heat on him. Gotch did push ups while holding Perkins in a head scissors. The Vaudevillians picked up another win with a rolling Samoan Drop and a Swanton Bomb.
-Would it be wrong of me to say Renee Young looked cuter in black and white.
-Last week Sami Zayn was not happy about Tyson Kidd betraying him.
-CJ Parker protested the next match and instead promoted the Earth.
2.) Bull Dempsey beat Xavier Woods with a body slam.
Xavier hasn't had entrance music in so long I forgot what it sounded like. Is he really worse off than he was in TNA? Bull's entrance music is someone screaming "BULL" over and over. Remember when Bobby Eaton's theme was children chanting "Bob-by" even though he was a heel?
The announcer told us that Bull gets ready for the match by punching brick walls. That must be why he did a lot of headlocks. Xavier fought out of a headlock, kicked Bull in the head, but got swatted out of the air by Bull when going for a cross body. Bull with a corner splash and a body slam for the win. Yes, his finisher was a body slam.
-Bull Dempsey says he is the last of a dying breed. Does this mean no one else will do 3 minutes of head locks during their 5 minute match?
3.) Becky Lynch pinned Summer Rae (w/Charlotte & Sasha Banks)
Before the match Summer Rae's match graphic had her wrestling Her Opponent. Becky came out with rejected Hornswoggle music and doing a jig. I originally wrote "doing a job" which may come in 2 minutes.
Becky did the Elix Skipper kick out where she just did a backslide to her feet. Summer, who came to the ring with Charlotte and Sasha, suddenly discovered they were at ringside and began yelling at them, which gave Becky a chance for her comeback.
Summer reached out for help and her friends walked away, so Becky pinned her with a t-bone suplex.
4.) Colin Cassidy beat Sawyer Fulton
Colin looking for his second win in a row, this time over Sawyer Fulton, who was last seen being dumb on TV 6 months ago. The certified G actually looked impressive, winning quickly with an elbow drop which I am going to call the Playback Error because I always have Network issues during Colin matches.
After the match The Legionnaires came out wearing tight t-shirts to attack Colin, but a healthy Enzo Amore returned and made the save. Enzo cut a promo after the match and reminded us why we all missed him.
5.) NXT Champion Adrian Neville beat Rob Van Dam
Alex Riley was kicked out of the broadcast booth in favor of the #1 Contender, Tyler Breeze.
This match was a backdrop to Renee and Tyler just talking about whatever came to mind while Rich tried to actually announce the match. Tyler refused to answer the most simple of questions, like how many views does his music video have. Both Neville and Van Dam exchanged a lot of holds, before a series of counters into counters into more counters.
Neville hit an Asai Moonsault to the outside and Van Dam crumbled into a heap. RVD moved at less than house show speed and that seemed to be enough to make the fans happy, chanting "This is awesome". We have a different opinion of what awesome is.
Van Dam missed the Split Legged Moonsault and this led to them exchanging leg kicks. Van Dam then missed the Five Star Frog Splash, Neville hit a Tornado DDT and the Red Arrow for the win.
Neville and RVD shook hands after the match and that does it for this week. Until next week, remember to say your vitamins and take your prayers!
(Visited 13 times, 1 visits today)