NXT RECAP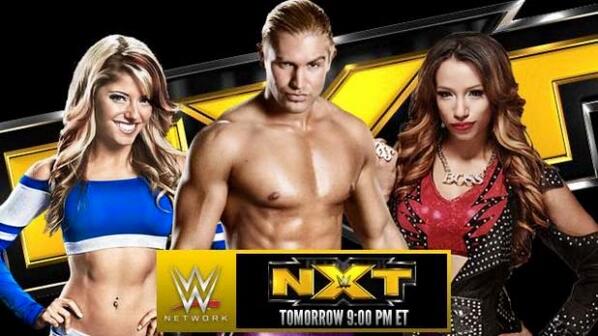 WWE NXT
June 19, 2014
LIVE! From Full Sail University
by Emerson "Bring back Mr. NXT!" Witner
Any questions, comments concerns or emotional outbursts? Contact me:
e-mail: ewitner@yahoo.com
Facebook: www.Facebook.com/Krazy.E.Man
Twitter: @TheReallyRealEW
Here's what you need to know about NXT:
-The NXT Champion is Adrian Neville, who became champion during NXT Arrival on February 27, winning a Ladder Match against Bo Dallas, who had been champion for 260 days
-They also have Tag Team Champions, Konnor and Viktor, better known as The Ascension. They won the belts on October 3, defeating Adrian Neville and Corey Graves
-Charlotte is the NXT Woman's Champion, becoming the second title holder on May 29 at NXT Takeover, pinning Natalya in the finals of a tournament set up when JBL stripped Paige of the title.
-John "Bradshaw" Layfield is the Interim General Manager of the show, replacing Dusty Rhodes who Triple H fired in a power trip.
-The announce team is constantly rotating with some combination of Byron Saxton, William Regal, Brad Maddox, Alex Riley, Rich Brennan, Jason Albert (formerly Tensai), Renee Young and Tom Phillips
And that's everything you need to know about NXT. (Now we know!) (And knowing is half the battle) (G.I. Joe!)
-Before I get started I invite all of you to tune in every Wednesday night at 10:00pm EST to the Wrestling Outsiders Podcast. Join my brother Brian and I over at http://www.blogtalkradio.com/wrestlingoutsiders as we look at past WWE, WCW and ECW pay per views.
-This past Monday at Raw, Nattie told JBL to make a tag team with Sami Zayn and Tyson Kidd. JBL said he would think about it.
1.) Alexa Bliss pinned Sasha Banks (w/Charlotte and Summer Rae)
The Boss is here to do battle with our teeniest, tiniest and newest NXT Diva: Alexa Bliss. The fans aren't as into Alexa's entrance as they have been recently.
They were going along good for a few minutes, but they fucked up something bad. Alexa went for a spear of some sort and they crumbled into a pile of tangled arms and legs. They took a deep breath and moved on with their lives and the match went fine after.
Charlotte and Summer were busy arguing outside and flipping their hair at each other. This distracted Sasha, so Alexa rolled her up for the win.
After the match Summer and Charlotte had a cat fight that Sasha tried breaking up.
-Backstage Tyson asked Nattie why she cost him the championship. Nattie told him he would have been disqualified for using a chair. Tyson was angry that Nattie went and got him a tag team title shot. Every time Tyson tried to say anything, Nattie kept cutting him off.
-Backstage Aiden English and Simon Gotch cut a promo out of a 1940's movie. Black and white, jump cuts and I am convinced the audio and video were off.
2.) Mojo Rawley pinned Garrett Dylan
Mojo is back for his second match since Rusev made him his bitch. Garrett Dylan is the son of Kris Kristofferson and this is his first match back after leaving the company last year when he was teaming with Scott Dawson.
Garrett got some token offense before being run over with the Stinger Splash, Rear View and Earthquake Splash, giving Mojo another win.
-Backstage Tyson Kidd and Sami Zayn had a meeting that caused my Network feed to go wacky. They both admitted they lost their matches at Takeover, but tonight is the restart and want to win the titles.
-Tyler Breeze has arrived….20 minutes late.
3.) The Vaudevillians defeated Angelo Dawkins and Travis Tyler
It's The Vaudevillians! Aiden English and Simon Gotch, doing a 1940's strongman gimmick. Their entire entrance was in black and white, with piano music playing.
Angelo Dawkins and Travis Tyler are the foes this week. Simon took Dawkins down and did one-handed pushups on the back of Angelo. All he needs is a skinny weight bar with two giants balls on either end. Or he could do Strongman competition events like the Metal Bar Bending or Tram Pull.
Simon did a lot of squats during the match and our silent movie villains won their first match with an Aiden English Swanton Bomb.
-Devin Taylor is backstage with Colin Cassidy. Colin mentioned he was on a losing streak until next week and feels something is missing. He sang that Enzo Amore was coming back.
-After commercial Devin Taylor is interviewing Rob Van Dam, who was here last year and he wants to wrestle Adrian Neville.
4.) Tyler Breeze pinned Kalisto
The fans chanted "Lu-cha" for Kalisto as he is here to face the #1 Contender to the NXT Title. Tyler just arrived at the building 12 minutes earlier, so it that proper time to stretch and get ready for your match?
Prince Pretty grounded the high flying Luchadore with some very lengthy headlocks. If it was anyone else the fans may have booed, but it's Breeze and everyone loves him.
I think Breeze went to the Mick Foley school of headlocks. He just kept on grabbing them. Finally Kalisto started his comeback with some of the finest flying seen in a WWE ring in a very long time.
We went to a commercial and came back to Breeze cutting him off again and giving us another lengthy head lock. Breeze got frustrated as he couldn't put the masked man away. Kalisto with some desperation Lucha, giving him just long enough to catch his breath.
Kalisto hurt his knee coming off the top rope, the Network skipped ahead a few seconds and Breeze won. Turns out he used the Beauty Shot.
-Next week: Adrian Neville vs RVD
-A commercial for Road To Paloma aired. I can imagine people liking this.
-Tyler Breeze has left the building. This is the first time that has ever happened. Plus his match ended like 5 minutes ago. Doesn't he bathe?
5.) NXT Tag Team Champions The Ascension defeated Tyson Kidd & Sami Zayn
This is a battle for the World Tag Team Championship Of The World Of Orlando. Ascension won the titles on October 3 of last year and proceeded to defend them against no one as all the other teams broke up. They did have title defenses against Hunico & Camacho, Too Cool and Kalisto & El Local, but have done nothing more than wrestle jobber teams for 260 days.
The champs got the heat on Zayn, who started the match. Tyson Kidd watched the heat segment, shrugged his shoulders, dropped off the apron and watched the match from the ramp. Zayn started his comeback and went for the tag, but Kidd wasn't there!
Sami has a look of confusion on his face as Tyson just smirks at him. Meanwhile Konnor splashed Zayn into the corner! One Fall of Man later and the champs keep their belts! We will see Day 261 of the longest Tag Team Title reign tomorrow.
Tyson Kidd smirks as he walks up the ramp, away from his fallen partner. What will happen next week? Until then, remember to say your vitamins and take your prayers.
(Visited 9 times, 1 visits today)