WWE Battleground Preview and Predictions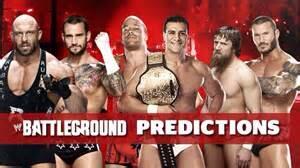 By Tom Daniels
It's time for Battleground, WWE's newest pay-per-view that will hopefully bring the wow factor and help start setting the stage for the Survivor Series. I am hoping for a big, eventful show that will bring some excitement to WWE as fall sets in. My predictions:
PRE-SHOW: DOLPH ZIGGLER vs. DAMIEN SANDOW
This should be interesting as both guys have had a spotty win-loss record lately. Being on the pre-show we also know there won't be a lot of time dedicated to this contest. I might not agree with this, but I think Sandow goes over so a shadow can be cast over the World Title match on the PPV of whether Sandow will cash-in or not.
WINNER: DAMIEN SANDOW
Kofi Kingston vs. Bray Wyatt
Probably not going to be a scientific showcase, but rather a match to advance the Wyatt Family. My bet is that Kane reemerges at this event, likely as an associate of the Family. Kofi will try his best, but there is simply no way that Bray Wyatt is going to lose yet.
WINNER: BRAY WYATT
R-TRUTH vs. CURTIS AXEL FOR THE INTERCONTINENTAL TITLE
R-Truth must have donated to Linda McMahon's last campaign something awful, because it doesn't make much sense that he is getting a title shot on PPV. With Axel coming up on the short end of many sticks lately, I see him defeating Truth and starting a new program with someone on Monday night.
WINNER: CURTIS AXEL
BRIE BELLA vs. AJ LEE FOR THE DIVAS TITLE
It's probably close to the time AJ should drop the gold, but I'm not sure Brie is the right woman for the job. Well, she's the right person for the "job" at Battleground. AJ retains, but I think we might see a new or returning Diva make an appearance during or after this match.
WINNER: AJ LEE
CM PUNK vs. RYBACK
I seem to be favoring the heels at Battleground. Time to mix things up. The next step in the CM Punk/Paul Heyman war will commence, but this time Punk should come up victorious. I think we're going to see an all-out war that brings Heyman just a little bit of what he has coming his way. This one should be a contended for show-stealer.
WINNER: CM PUNK
CODY RHODES & GOLDUST vs. THE SHIELD
I've given this match a lot of thought and am going to go out on a limb here: Goldust turns on his brother giving the Shield the win. With this, though, Triple H will reward Goldust with a contract and Cody will be given another opportunity or so to get back with the company. Goldust has wanted to feud with Cody, and this is the perfect opportunity. A good brother vs. brother feud could help elevate Cody more. I anticipate this being a strong match, too, but a stronger ending as Dusty is left at ringside trying to bring peace to his family.
WINNERS: THE SHIELD
BATTLEGROUND HARDCORE RULES MATCH: ROB VAN DAM vs. ALBERTO DEL RIO
Yawn, I'm afraid. This feud isn't all that interesting, nor is Del Rio as champ. I'd consider a Ricardo Rodriguez turn if I didn't already put Goldust in that position. The match has some potential to entertain with the hardcore rules gimmick, and RVD will deliver, however I think this match will get a little lost in the shuffle. In the end, I think RVD takes the gold and a new heel challenger enters the World Title picture.
WINNER: ROB VAN DAM
That new challenger will be… Damien Sandow! RVD will be beat up from the match and Sandow will take his opportunity, but lose, causing him to go a bit insane for a botched opportunity. This will set up, though, a RVD/Sandow program for the belt.
WINNER: ROB VAN DAM
DANIEL BRYAN vs. RANDY ORTON FOR THE VACANT WWE TITLE
No doubt this match will be unpredictable with cameos from Triple H, The Miz and Big Show. This will boil down to Bryan winning or near winning before Triple H comes down and restarts the match or switches refs or something similar so Orton can regroup and get the win (likely after Big Show is instructed to knock Bryan out). This one will continue on to Hell in a Cell!
WINNER: RANDY ORTON
It's going to be a night where it's good to be a heel. I'm not expecting too much from the event, but just enough to change the direction of some feuds or add a new layer to others. Hell in a Cell and the Survivor Series are close behind, and I see this event as a set-up for those PPVs.
(Visited 2 times, 1 visits today)