News on Bruno Sammartino, Jim Ross, Randy Savage's final days, and more
– The Miguel Leg Drop Gets the Jim Ross Treatment (Videos)
– Bruno Sammartino tweeted: @wwe @wweuniverse @tripleh @stephaniemcmahon Here I am with original belt, politicians and WWE
archeivist Ben Brown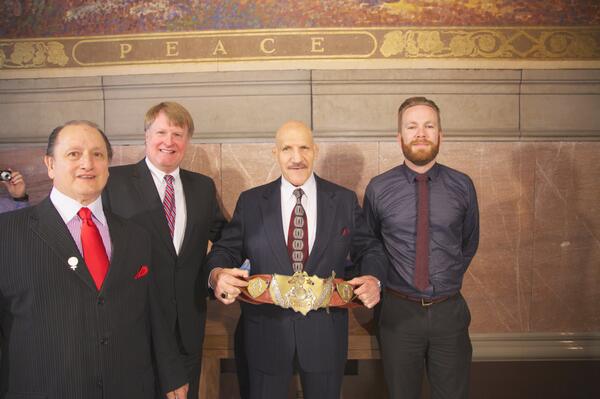 – The Final Days of Randy 'Macho Man' Savage
– From Beau James: Following up on his Amazon 5 Star rated book "Do Ya Wanna Be A Wrestler, Kid?" Beau James has once again teamed up with Dr. Donnie Brannen to bring you his new book "It Takes All Kind : The People, Place and Events That Make Pro Wrestling".
214 pages of shorts stories of Beau's life in Pro Wrestling. He covers such topics as midget wrestlers, good and bad promoters, the real good guys in wrestling, road trips, too much drinking, best and worst kind of fans, heroes turned friends, magical wrestling arenas, dressing room and parking lot fights, follow ups from his first book ,and much more,
Forward by time friend Dr. Tom Prichard, The back cover was written by Paul Bearer aka Percy Pringle III.
You can buy now at kingofkingsport.com. Now till Memorial Day get both of Beau's books and save $10.
(Visited 53 times, 1 visits today)