Wrestling By The Numbers: Kharma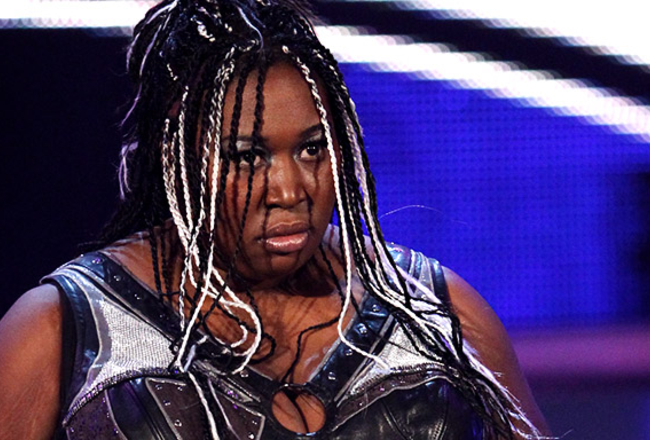 Wrestling By The Numbers: Kia 'Kharma' Stevens
World Wrestling Entertainment has parted ways with performer Kia 'Kharma' Stevens. The 34-year-old Carson California native had been with the company for the past year and a half. Stevens was signed by the WWE in December of 2010 and made her debut in the spring of the following year. After only being on television for 1-month, Stevens and the WWE announced she would be taking paternity leave. She eventually returned at the 2012 Royal Rumble where she became only the third woman ever to compete in the historical match. She also became only the second woman in the history of the WWE to compete in a pay-per-view main event. Surprisingly Kharma wasn't used again by the company after her Royal Rumble appearance.
Kia Stevens is a 10-year professional wrestling veteran who made her debut back in 2002 after having been trained by Jesse Hernandez. Stevens has competed under the names Kharma, Awesome Kong and Amazing Kong. She was a star in Japan prior to making a name for herself in North American competing for All Japan Women's Pro Wrestling, Gaea Japan and Hustle from 2002-2007. She also competed in Shimmer Women Athletes, Ring Of Honor Wrestling and numerous independent organizations prior to signing with TNA Wrestling in 2007. She spent 2-years with the company where she became a 2-Time TNA Knockouts Champion and a 1-Time TNA Knockouts Tag-Team Champion. Competing as Awesome Kong she had legendary battles with Gail Kim that defined the company's new championship division at the time.
Below we look at the professional wrestling career of Kia 'Kharma' Stevens by the numbers…
World Wrestling Entertainment:
* 1 Match on WWE Pay-Per-View.
* 1 Main Event Match ( 2nd Most All-Time ) on WWE Pay-Per-View. (Main Event Match: 2012 Royal Rumble In The 30-Person Royal Rumble Match)
TNA Wrestling:
* 21 Matches ( 4th Most All-Time ) on TNA Pay-Per-View. (First Match: 2007 Bound For Glory In A 10-Man Gauntlet For The Gold Match Last Match: 2009 Turning Point Vs Tara)
* 1 Match Managed on TNA Pay-Per-View.
* 62 Matches ( 6th Most All-Time ) on TNA Impact Wrestling. (First Match: October 11th 2007 Vs Gail Kim Last Match: January 28th 2010 With Tara & Hamada Vs Velvet Sky, Madison Rayne & Lacey Von Erich)
* 2 Main Event Matches ( 9th Most All-Time ) on TNA Impact Wrestling. (First Main Event Match: January 10th 2008 Vs Gail Kim Last Main Event Match: February 14th 2008 Vs O.D.B.)
Ring Of Honor Wrestling:
* 1 Match ( 9th Most All-Time ) on ROH Pay-Per-View. (Match: 2010 Final Battle With Daizee Haze Vs Sara Del Ray & Serena Deeb)
* 3 Matches on ROH Home Video Releases.
* 1 Main Event Match ( 2nd Most All-Time ) on ROH Home Video Releases. (Main Event Match: 2010 Hate With Jay Briscoe & Mark Briscoe Vs Chris Hero, Claudio Castagnoli & Sara Del Ray)
(Visited 4 times, 1 visits today)