Pipebomb #3: No Surrender and 9/11‏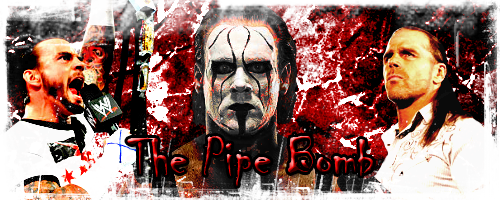 by Kenny McKnight
I'll be covering two big topics in this edition of the Pipe Bomb. I was originally intending to just write up a prediction piece for TNA's No Surrender, which is coming up this Sunday, but then I started thinking about the actual day that this event is taking place on. So this is a two part article, and I'll start with this Sunday's pay per view.
So, we have four matches announced for this Sunday. You heard me right. No Surrender is coming up in a few days and the only title match we know is going to happen is Brian Kendrick vs. Austin Aries for the X division championship.
This line of thinking used to work for ECW to promote their events, but that was during a time when the promotion was white hot. TNA is certainly anything but white hot right now. They are putting all of their money on this "Bound for Glory Series" paying off.
It figures that my first piece covering ppv predictions would be stripped down to four matches announced. I am very skeptical of TNA's booking theory for this event, but I am going to disregard my thoughts on that for now and go ahead and predict this event.
Bound For Glory Series
James Storm vs. Bully Ray
This match doesn't feel like it has the firepower behind it that a series like this should have at this point in the game. Bully Ray is a good heel, but he doesn't have the name value that he had as part of Team 3D. James Storm is part of an amazing team, but he has no track record as a singles star. None of the guys in this series really do. I think Bully Ray will make this match pretty brutal, but other than some possible big bumps, I don't see much happening. James Storm will get the win.
Bound For Glory Series
Robert Roode vs. Gunner
Gunner? Seriously? This guy came in out of nowhere and has been given a pretty good push. He still does not feel like a guy who should be this far up or even in a tournament. Robert Roode however has all of the tools to become a main eventer. No brainer here, despite some possible interference from Immortal and Fourtune, Robert Roode wins. TNA can't resist teasing the split of Beer Money.
Matt Morgan vs. Samoa Joe
We've seen this before. Matt Morgan is a monster in the ring. He's got size, strength, and a mean streak. Samoa Joe is giving up size, but has intensity to make up for it. This reminds me of Taz vs. Bam Bam. I think Samoa Joe will pull this out, if only because TNA needs Joe right now even more than they need Matt Morgan.
TNA X Division Championship
Brian Kendrick vs. Austin Aries
This is the only match announced for No Surrender that I really care about. Brian Kendrick has been doing a good job as TNA Champion, and Austin Aries is an amazing athlete. This is an example of GOOD booking that many people will point out seems to be lacking in TNA. I think Kendrick will retain, but this rivalry is far from over.
Now, TNA needs to do something big to make this event a success, as it doesn't feel like an event worthy of charging money for. Let's hope TNA suprises us in a way that doesn't make us groan.
Now, this event is taking place a decade after 9/11/2001. Let's look back up north at WWE. Vince McMahon is undeniably a patriot. He is very proud to be an American. When the attacks on the United States happened, WWE was preparing to tape an episode of SmackDown. That taping would be delayed for only two days, which is something that WWE has been criticized and praised for.
Vince McMahon could have easily just cancelled SmackDown for that week and nobody would have faulted them for it. The country was in a state of panic. Concerns of more attacks loomed overhead and people were afraid to do big gatherings. Vince McMahon and WWE put on the first large public gathering after the events of 9/11.
Most people do not remember a match that took place at that event, but anybody who saw it can likely tell you about Vince McMahon's opening promo and Lillian Garcia's singing. The event was not about the matches. It was all about showing that America will not live in fear.
WWE has been bashed so many times for so many different things. I will always give them props for taking the first step in getting this country to start operating again. This also started the wheel rolling for "Tribute to the troops", which is an amazing show of appreciation to the troops who fight to keep this country safe.
As WWE fans, we often get irritated by the storylines and other things that take place. It is the acts like the 9/13/2001 episode of SmackDown that help remind us of why we love WWE.
(Visited 11 times, 1 visits today)