The Rock and WWE working on a handshake agreement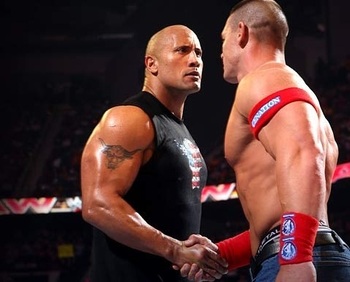 Addressing a question from a shareholder at the annual shareholders
meeting, WWE CEO and Chairman Vince McMahon said that there's only a
handshake agreement between him and The Rock and said that is the way
they've done business with him for a long time. The Rock often stated in the
past that he shares a great relationship with Vince McMahon, apparently so
great that the two don't need anything in writing to conduct business
together. The former WWE champion came back this past February to host
WrestleMania and will be on RAW on Monday to celebrate his birthday and will
also be in the main event of next year's WrestleMania against John Cena. The
annual shareholders meeting lasted around an hour with Vince and other WWE
executives answering questions from shareholders. Triple H, who was
introduced by his real name of Paul Levesque with the title of senior
adviser to the Chairman's office, was also in attendance.
(thanks to Colin Vassallo)
(Visited 26 times, 1 visits today)