Former WWE Diva v. Former TNA Knockout in 2011
vs.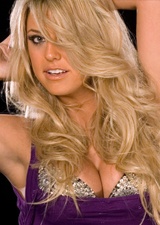 ChickFight returns to Pro Wrestling Revolution on February 5th as former
WWE Diva, Taryn Terrell (Tiffany) will step into the ring with former TNA
Knockout, Alissa Flash to see the New Year in with a bang!
In this special ChickFight match presented by Diva-Dirt.com, the #1
women's wrestling website, Taryn and Alissa will face off in San Francisco
at PWR's first live event of 2011.
For the past two years, Taryn has built up her name as a 'Diva' on WWE's
ECW and Friday Night SmackDown television shows appearing as Tiffany, but
now she's ready to shake off that tag. Taryn will step up to the plate
against Flash, ranked #4 on the 2010 PWI Female 50, in hopes of scoring a
big victory to help kick-start her career on the independent scene.
It's safe to say that Taryn has never faced competition quite like the
veteran and PWR regular Alissa, who has wrestled all over the world and
competed for ChickFight, SHIMMER and in Japan.
Will it be the former Diva who stands tall with a victory, or the former
Knockout?
Don't miss the action on Saturday, February 5th at John A. O'Connell High
School in San Francisco. Doors open at 6pm PDT. Tickets are just $10 for
general admission and $20 for front row.
For more information please visit www.chickfight.tv,
www.prowrestling-revolution.com and www.diva-dirt.com.
TICKETS: http://www.eventbrite.com/event/851710489/rss
(Visited 10 times, 1 visits today)